Edible Review: Hazelenut Dark Chocolate Truffles by Dopo
Hazelnut Dark Chocolate Truffles
Brand: Dopo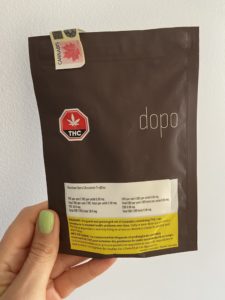 Manufactured by Black Rose Organics Canada Ltd.
Packaged: Oct 12, 2022
THC per unit: 5mg, 10mg/package
Units per package: 2, 28g, 90 calories/7g fat/4g sugar/per truffle
Discover a delicious combination of textures and flavours.  Rich, creamy hazelnut filling inside a dark chocolate shell surrounded with crunchy toasted hazelnut pieces.  
I set the bar low for these truffles.  I'm not sure why other than the rattling around that I could hear inside the package even before I opened them.  It sounded like a bag full of crumbs.  Plus, through not fault of their own, but the packaging was less than inspiring, a larger than necessary, plain brown package bearing the brand logo.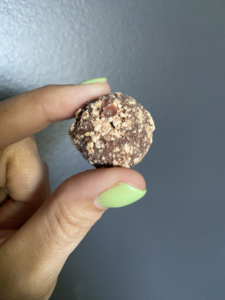 However, I was pleasantly surprised.  So surprised that I forgot to take a picture of one of the truffles the first time around and had to go back and get another package in order to finish this review.  Happy little accident since I welcomed the opportunity to try these again.
They were soft and creamy, just like some of the homemade truffles I've made.  The hazelnut coating, which was responsible for the aforementioned rattling in the bag, offered a pleasant texture.  Not as crunchy as suggested by the marketing blurb but the nuttiness was complimentary to the creaminess of the truffle.  The dark chocolate shell, which upon reflection didn't stand out too much, these truffles were on the sweeter side than a dark chocolate would hint, but that hint of dark chocolate tempered the sweetness.
Overall, the taste, mouthfeel and effects were better than I expected and stand out in a sea of bitter tasting commercial edibles.
Rating: 7/10
Advertisements