Edible Review: Blueberry & Lemon Iced Tea by Collective Project
Brand: Blueberry & Lemon Iced Tea by Collective Project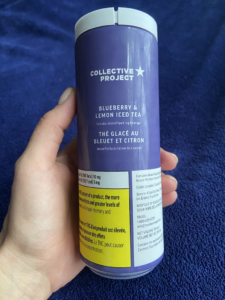 Manufactured by: Truss
Packaged: unknown
THC per unit: 10mg
CBD per unit: 5mg
Units per package: 1, 355mL, 45 calories/0g fat/10g sugar/per can
Cannabis infused sparkling beverage.    Roll can before opening.
Without checking, I assumed a sparkling beverage meant that it was going to be a sugar-free beverage.  I was incorrect and slurped down 10g grams of blueberry puree and cane sugar in a matter of minutes.  At least it wasn't high fructose corn syrup so I didn't feel guilty.
Because the drink was sweetened, the flavour was stronger than what I've come to expect of many sugarless sparkling weed drinks. The blueberry and lemon was a complimentary flavour combination, with the lemon being stronger of the two, not surprisingly.  Blueberry has a habit of fading into the background in whatever food or drink it finds itself, at least in my opinion.
This iced tea is light and refreshing but you can still sense that distillate aftertaste that plagues so many drinks like this.  It's hard to mask especially if the drink contains less sugar.  The ratio of THC:CBD was great and I love the fact that I can feel the effects of a drink like this even though I typically do not from a food based edible of the same potency.  I did not roll the can before opening because I didn't notice that instruction on the can until I sat down to write this review.  I wonder how much of a difference that would have made in the enjoyment of my drink?  Is rolling a cannabis drink before opening standard practice?  I guess I'll have to drink more to find out.
Overall, this was a tasty, sparkling, icea tea drink with a palatable flavour combination. The hint of distillate brings down the rating when factored in with the price.
Rating: 6/10
Advertisements