Edible Review: Lost Farm Island Punch Gummy by Kiva
Manufactured by Tidal Health Solutions Ltd.
Packaged: Oct 11, 2022
THC per gummy: 10mg, Hybrid
Units per package: 1, 3.6g, 10 calories/0g fat/3g sugar/per truffle
I picked up this gummy pack because Kiva is a big brand in the States and I had tried some Lost Farm soft chews when I was in Humbolt, California for my Ganjier training.  The big difference here is that currently in Canada you're limited to 10mg/per package, instead of the multi pack I enjoyed in the US.
There are several things I like about the Canadian version though, as compared to other edibles available in the dispensaries I shop at.  First is that the Island Punch gummy is infused with Chimp Mints Live Resin as opposed to the distillate that you typically get in edibles here.  A full spectrum gummy in a pack made with recycled material because the problem of packaging waste is real in Canada.  Two wins before I've even sampled the gummy.
The gummy was soft and chewy but with sugary coating that gave it a nice textured grit.  It was a unique flavour that reminded me of citrus fruit and had the edgy taste of the resin that was softer and left a interesting aftertaste on the palate, not unpleasant.
They were tasty and as far as a gummy goes.  I'd buy this over a distillate based version of the same thing and I love that it's infused with a specific cultivar making it a unique offering in a sea of similar looking products.  Wish I could buy a pack of these instead of a single gummy, it makes them rather pricey for what you get.
Rating: 7/10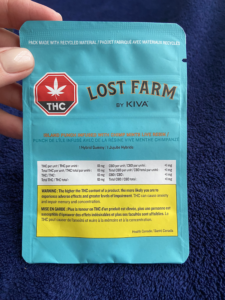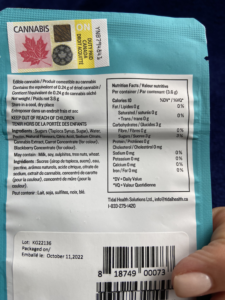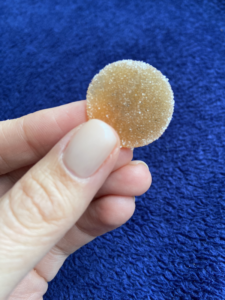 Advertisements