Rolling Review: Thaiger Thai Sticks Cannagar Rolling Kit
@thaigerthaisticks was/is having a sale on their Etsy page, so I managed to snag a an entire kit for $15. Honestly, 6mm is a little smaller than I expected, but that's what I get for only familiarizing myself with imperial measurements (damn you, King George). Probably gonna shoot it to the homie as a birthday present or something and get myself an 8.5 or a 10 for personal use.
Thaiger Thaistick Cannagar Rolling Review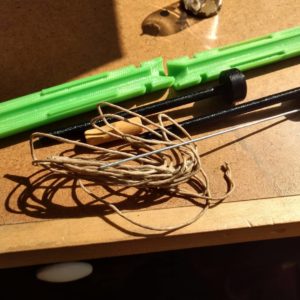 Regardless of size, Thaiger makes good stuff, and they label what size @organitipsworldwide to use on each press, which is pretty cool. When I got my first presses #organitips weren't the industry standard for pressed 'Gars, so my @cannagartools and @cannagarkitsv2 'Gars don't get tipped. It's definitely an improvement, though I love my other presses.
For an inexpensive press, this thing is nice. The packer slides in the housing easily, the skewer is metal so I don't have to look around for a reusable one to fit this size, and it comes with a free Organitip to fit your first 'Gar. Considering I got this for the price of a decent rolling machine, papers, and a pack of Organitips, it's definitely worth getting while you still can. Thaiger's social media people are super interactive, too, which is something I appreciate in a company.
.
.
.
#thaistick #thaiger #thaigerthaisticks #cannagar #cannagarmold #bluntculture #bluntporn #rollingloud #rollup #OMMP #rollwitheachother #cannagartist #cannabiscommunity #pnwstoners #rollwithme #justblazeig #weedstagram420
Advertisements