Strain Review: Bonzai by Ball Family Farms
Ball Family Farms – Bonzai (proprietary sativa genetics)
Light source: indoor
27.6% THC
$40+tax @berners.on.haight
Lineage/Genetics: Unknown
Original Breeder/Grower: Ball Family Farms
Dispensary: Berner's on Haight
Bonzai Strain Review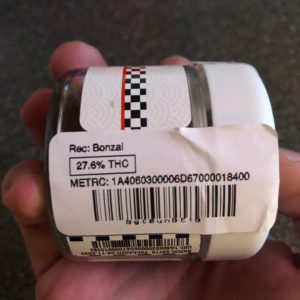 Ball Family Farms (BFF) is one of those new cannabis companies getting lots of financial pr right now. Their brand and CEO have graced the pages of magazines like FORBES.
They started off with a proprietary hybrid they called "Daniel LaRusso" after the Karate Kid. BFF has since had a lot of success.
So when I saw their "Bonzai" at Berners for $40 not $65-80 like it usually sells for I was extremely interested to try this quickly growing brand.
I could find no genetic information on "Bonzai". My 1/8 was 4 approx 1g nugs. Fine by me. Smelled n tasted like an Indian landrace x Columbian but who knows as they're not sharing the genes. I would bet it's a land race or sativa landrace cross.
Either way it's wonderful and a bit nutty with strong terps exploding with every inhale. Smoked approx 1g w my coffee. In a great mood to go get a ton of shit done. This was exactly the "high" I was looking for to be active and busy on a Monday morning. Great job BFF!!!
For $40 I would rec this to anyone looking for a terpy daytime sativa that won't add anxiety or induce sedation but might help to get shit done.
#ballfamilyfarms #ballfamilyreserve #bernersonhaight #sativa #landracegenetics #sfcannabis #bayareacannabis #bemorekind
Advertisements