Strain Review: Da Funk by Kush Rush Exotics
DA FUNK
By: @kushrush_exotics @uncle_kush408 @mrallblack_
Via: @24k_exotics
Lineage/Genetics: Its It x Fire AF
Original Breeder: Kush Rush Exotics
Grower: Kush Rush Exotics
Da Funk Strain Review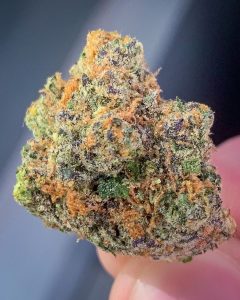 DA FUNK, by Kush Rush Exotics is an Indica-dominant hybrid, and a cross of ITS IT x FIRE AF. Never having tried either of Da Funk's parents, I was excited to dig into this strain without expectations. My gift of Da Funk had smaller, popcorn sized nugs with a dense Indica like structure and a flakey, powdery texture. Da Funk has an attractive marbling of Persian greens and iris/electric purple, but is most easily recognized by the thick groupings of bright tiger orange pistils which hint at the strains underlying potency.
Typical of all Kush Rush exotic strains, Da Funk's unqiue smoke really set the strain apart from the competition. Cutting, complex, and multilayered, the nose and flavor on Da Funk is best characterized by a heavy diesel and floral flavor but also possessing a 'cookie' like combo of spice, earth and a hint of a mint like cream on the inhale. Notes of berry and citrus really shine through on the backend, giving the strain a fruity, gassy 'do-si- do' vibe.
Da Funk's effects come on seemingly instantaneously, beginning with an immediate sense of head pressure emanating from the middle of the forehead and behind the eyes. Blissful, stoney sedation is the name of the game when smoking this strain with a very high likelihood of some couchlock. I found Da Funk to be quite indica heavy, best suited for the end of the day, or when in need of some serious relief.
#Budfinder
•
•
•
•
#dcbud #dc420 #420 #dcweed #mdweed #stoner #marijuana #dccannabisculture #strainfinder #thc #dccannabis #dcdabbers #puffpuffpass #dopesmoke #dmv420 #topshelf #stoner #whiteashonly #cleanmeds #i71 #itsit #fireaf #kushrush #dafunk
Advertisements