Strain Review: Anger by Kush Rush Exotics
ANGER (Black Guava)
By: @kushrush_exotics @uncle_kush408
Via: @24k_exotics
Lineage/Genetics: Black Guava
Original Breeder: Unknown
Grower: Kush Rush Exotics
Anger Strain Review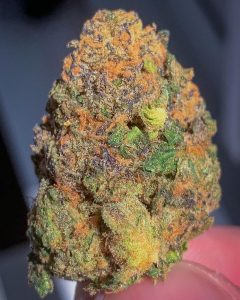 Sheesh! Kush Rush Exotics keeps the flavors coming! I saw the new line of strains (Lust, Envy, Pride etc.) and couldn't wait to try them for myself. Today we take a first look at ANGER a/k/a Black Guava, and trust me, it did not disappoint…
Appearance: My gift included two medium sized, beautifully curated nugs, each weighing slightly over a gram, and some smaller buds. Even the smaller buds get shown proper love during the trimming process, little things like this matter at an exotic ticket. Anger features emerald to lime green buds, perfectly marbled with a darker plum color. Vibrant, peach colored pistils complete the overall look alongside a healthy dusting of triches.
Scent: Unique, multi layered tropical scent quite unlike any I've smelled before. Full-bodied and sweet, with a smooth creamy fruit reminiscent of peach or banana, followed by a tangy punch on the back end.
Flavor: Anger hits with an initial smoothness despite leaning heavier on an earthy, gassy flavor, supplemented by a muted floral fruitiness. A dash of pine and pepper is introduced at the end, lingering post-exhale.
Effect: Anger hits with an instantaneous intensity and pressure, felt mainly in the face and particularly heavy on the cheekbones. Simultaneously, a buzzing, warming wave of relief rolls through the body. Within a few minutes, your mood begins to shit as an uplifting, euphoric, but deeply introspective high completely takes control. Get your work done early with this one, energizing at first, but shockingly heavy at the end.
#Budfinder
•
•
•
•
#dcbud #dc420 #420 #dcweed #mdweed #stoner #marijuana #dccannabisculture #strainfinder #thc #dccannabis #dcdabbers #puffpuffpass #dopesmoke #dmv420 #topshelf #stoner #whiteashonly #cleanmeds #i71 #kushrush #blackguava
Advertisements