Strain Review: Grape Soda by Kush Rush Exotics
GRAPE SODA
Indica Dominant Hybrid
By: @kushrush_exotics @uncle_kush408 @mrallblack_
Via: @24k_exotics
Lineage/Genetics: Tahoe OG Kush
Original Breeder: Taste Budz
Grower: Kush Rush Exotics
Grape Soda Strain Review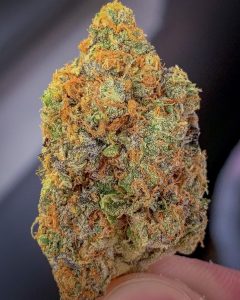 Grape Soda is a unique Tahoe OG Kush (OG Kush x SFV OG) phenotype, offering a distinctly sweet, fruity profile while maintaining that classic OG potency. Grape Soda possesses large, chunky, christmas tree like nugs of medium density, and boasting a surprisingly light and fluffy texture. From a visual standpoint, Kush Rush's Grape Soda is absolutely laden with pumpkin colored pistils and candy like trichomes overlaying the bud's bright pear green base with flashes of a lollipop purple.
Grape Soda has a nose you won't soon forget. Predominately sweet, piney and citrusy with a muted berry, tropical musk the back end. The grape terps begin to show themselves when grinding up the bud, and explode with a ripe flavor upon lighting up to smoke. Grape Soda possesses a sweet and sour syrupy berry flavor with hints of lemon, earth, and diesel to completing the experience.
Taking a few minutes to reach its absolute climax, Grape Soda's effects are worth the short wait as a delightful high begins to take over. Starting as a mellow, hazey head rush, the effects soon take full control of the wheel, resulting in a creative trance-like state of unfocused cerebral bliss. A true stress-killer, Grape Soda is ideal for after work and or for the wind down. Physically, the strain produces tingly waves of pleasure which periodically make its way down the body, however given the intensity of the the head high, this calming action often goes unnoticed.
#Budfinder
•
•
•
•
#dcbud #dc420 #420 #dcweed #mdweed #stoner #marijuana #dccannabisculture #strainfinder #thc #dccannabis #dcdabbers #puffpuffpass #dopesmoke #dmv420 #topshelf #stoner #whiteashonly #cleanmeds #i71 #kushrush #kushrushexotics #tahoeog #grapesoda #24k
Advertisements