Strain Review: Super Lemon Cherry by Don Merfos Exoticz
SUPER LEMON CHERRY
By: @don_merfos_exoticz @a1exoticz
Via: @georgetownflavors.rep @georgetownflavors.lookbook
Lineage/Genetics: Unknown
Original Breeder: Don Merfos Exoticz
Grower: A1 Exoticz
Super Lemon Cherry Strain Review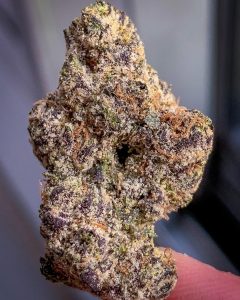 If Georgetown Flavors got it on their menu, you know it's some real deal pressure. SUPER LEMON CHERRY, by Don Merfos Exotics and A1 Exoticz is no exception. I was gifted a number of gram sized buds in my eighth, each of which posses a medium density and soft flakey texture. Super Lemon Cherry is absolutely triched out and reminiscent of a heavy layer of toppings on ice cream or off-white frosting on a cake. The buds themselves are characterized by deep eggplant purples fading to a lighter wine color closer to the stem, flanked by patches of a surprisingly vibrant greens throughout.
Upon opening the bag, the sense are overwhelmed by the smell of a ripe diesel, and sharp 'lemon pledge' with a fruit punch twist. Similar to its nose, the predominate flavor is a cakey, citrusy, fruity, yet very fuel-heavy, with the exhale really bringing out a tart, cherry kush/black cherry gas. That combo of sweet, tart and fuel really was pleasant on the pallets. If you're smoking with flavor in mind, this is the strain for you.
Super Lemon Cherry is no joke. This strain has a serious punch, and it smacks quickly upon smoking. After two small bowls, my mind was high up in the clouds and experiencing a state of unfocused euphoria. Fighting desperately to get back to work, SLC had my eyes glazed over and attempting to focus in on my computer was futile. The high is truly head dominant, but you feel a sense of couch lock none the less. To me, this feels like the ideal hybrid strain, possessing an Indica like grip, but energy and function remain high if you can tolerate the pressure. User beware, but this is a top 5 strain the year for me.
#Budfinder
•
•
•
•
#dcbud #dc420 #420 #dcweed #stoner #marijuana #dccannabisculture #strainfinder #thc #dccannabis #puffpuffpass #dopesmoke #dmv420 #topshelf #stoner #whiteashonly #cleanmeds #i71 #donmerfosexotics #donmerfos #a1exotics #superlemoncherry #lemoncherry
Advertisements