Strain Review: 41 Cherriez by Don Merfos Exoticz
41 Cherriez (Gelato 41 x Black Cherry Gelato) from @don_merfos_exoticz via @fritz_philly
Lineage/Genetics: Gelato 41 x Black Cherry Gelato
Original Breeder: Don Merfos Exoticz
Grower: Don Merfos Exoticz
41 Cherriez Strain Review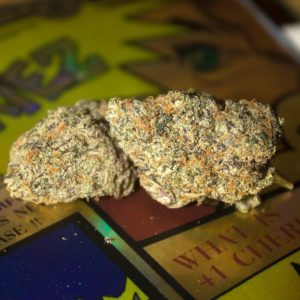 Whenever I see strains with fruit in the name, I always anticipate the smell as I open the bag. Being that both parents in the cross are gelato, I knew I was in for a surprise. A very pleasant sour scent hits my nose followed by all of the gelato gas from the 41. The Black Cherry gives off that sharp undertone that takes your breath away a little bit as you smell it. This here is certainly an interesting combination.
The flavor profile here is very sweet, and one would think this batch in particular might fall on the Black Cherry side, however the flavor was very balanced which made it incredibly enjoyable. The cure and trim on these nugs were outstanding and they were very easy to roll up or pack down. The effects from the 41 Cherriez were just as I would have guesses, very heavy.
Not only does a roll up of 41 Cherriez knock you out, but it will do so while being a treat. I felt sedated, relaxed, and found myself seeking takeout. This is a strain I will be trying to grab whenever around.
This review among others can also be found at BigWhiteAsh.com
#cannabis #cannabiscommunity #nugshot #nugporn #weedporn #cherriez #41cherriez #BigWhiteAsh
Advertisements