Strain Review: Wedding Crusher by Mendo Inc.
Let's keep it LIT!
Older review forgot to post (Halloween ish pick up)
. @mendo.inc
. @lemonnadesacramento
. @trunorcal420_
. @westcoastsmokeshow
Brand: Mendo
Strain: Wedding Crusher
Lineage/Genetics: Wedding Cake x Purple Punch
Original Breeder: Symbiotic Genetics
Grower: Mendo Inc.
Dispensary: Lemonnade Sacramento
Wedding Crusher Strain Review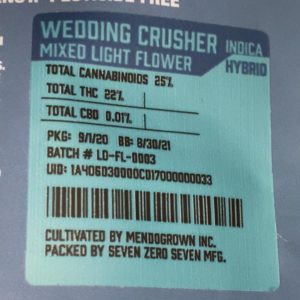 22%THC
25% Total Cannabinoids
Pkg Date: 9/1/2020
Comments: Gunna start adding Cannabinoid contents if available now! Woo. Another one from Mendo. See how this goes.
Review
1. Scent: Getting some little hints of burnt maple syrup some sweet kind of floral/fruit scent too on the back end.
2. Appearance: Green structures with trichomes – pretty standard looking tree nothing jumping out at the eyes.
3. Nug Structure: Easy to pull apart without a grinder. No issues with sticking to the fingers either.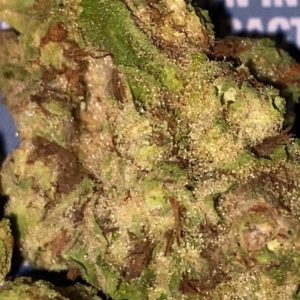 4. Smoke: Starting off with rip off the bubbler without inhaling first- its full figured and smooth. Doesn't tingle the nose too much or anything. Full rip off the bubbler is a little tight on the lower throat/lungs but no coughing.
5. Taste: Calming fruits such as berry and perhaps just a tinge of watermelon.
6. Reaction: So far pretty mild sedation to the eyes, mind is focused but body pain is definitely still happening.
7. Conclusion: Really even to more heady high, so one could say a good daytime strain or while doin work. Not good for body relaxation or recovery yet but I'll come back to it in another few mins.
#NoHashTagz
Advertisements