Strain Review: Ice Cream Man by SF Cultivators
Let's GO!
. @sfcultivators
. @lemonnadesacramento
. @trunorcal420_
. @westcoastsmokeshow
Brand: SF Cultivators
Cultivar: Ice Cream Man
Lineage/Genetics: Jet Fuel Gelato x Legend Orange Apricot
Original Breeder: Compound Genetics
Grower: SF Cultivators
Dispensary: Lemonnade Sacramento
SF Cultivators Ice Cream Man Strain Review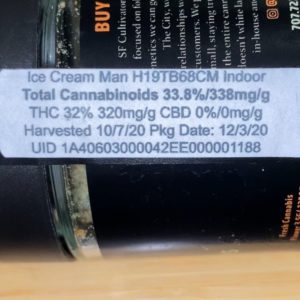 32%THC
33.8% Total Cannabinoids
Harvest Date: 10/7/2020
Pkg Date: 12/3/2020
Comments: There's no place like Stoned for the Holidays. SF Cultivators finally landed here in SacTown so let's see what's in this jar.
Review
1. Scent: Nose doesn't give off much in jar opening. Sage like earthy sensation a little bit further down. On the fingers after breaking down the bud you find more floral citrusy tones. Little sugary now on finger tips.
2. Appearance: Having a nice little photo shoot. These are trichomes are stars dotting across the buds. Reminds me of Snowboarding how frosty these are.
3. Nug Structure: Easy by hand and no issue by grinder. Lots to be happy with this cure as the buds are nicely hydrated and good to smash.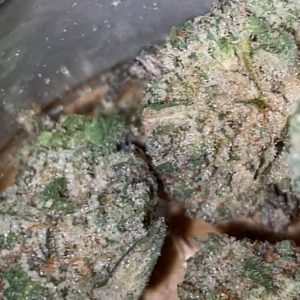 4. Smoke: Huge rip off the bubbler took me out to space to see them stars. Checking myself hard on the chest, I ain't coughing but I def will be. Next few bowls, even at night off bong, no coughing.
5. Taste: Kinda pine and minty refreshment tones. My second rip is now showing me spicier notes on the back left of my mouth.
6. Reaction: First smoke and I'm feeling the upper back, shoulders round toward my anterior of my body. Eyes are glazed over and limbs feel pretty heavy. Couple days later and I was fucking stuck for an hour off one hit. 👀 watching that Movies that Made us "The Nightmare before Christmas" Yee.
7. Conclusion: Was skeptical with a less than powerful nose at the start. However, it was taken for a long ride of well over an hour from start to finish. So many varieties of wedding & ice cream in circulation, but this one def took me up. Would get again.
#NoHashTagz