Strain Review: Chemical Sunset by Surfr Select
Surfr Select just dropped two strains that have made a very big impression on my Instagram feed. I grabbed the Chemical Sunset from @thc.pdx the day after it dropped.
Lineage/Genetics: OG Chem x Orange Zkittlez
Indica or Sativa: Indica dominant Hybrid
Original Breeder: Surfr Seeds
Grower: Surfr Select
Dispensary: TreeHouse Collective
Chemical Sunset Strain Review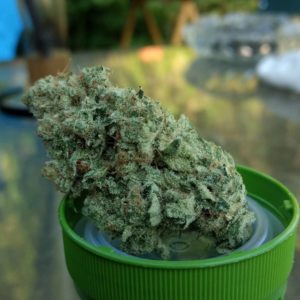 My camera can't show you just how pristine these trichs are. Gorgeous white frost across both of them.
Chemical Sunset was kind of a surprise. With a name like that, I was expecting a funkier, more GMO dominant smell and effect. Instead, it had the funky Cheeto smell I've come to associate with the TKT from @resin_ranchers.pdx. It was a relaxing, light high instead of the heavy GMO stone. I really liked this stuff. I understand it has a notable amount of CBG, which would explain why the high was such a level headed and relaxing one.
I like that there's more breeders in the rec game now. Variety is the spice of life, and breeders keep life nice and spicy.
.
.
.
#thehighestcritic #surfrselect #strainreview #strainreviews #weedreviews #420review #portlandcannabis #OMMP #portlandweedreviews #mmj #oregoncannabiscommunity #portlandcannabiscommunity #oregonweedreviews #Medicate #oregoncannabis #medicalmarijuana #pdxcannabiscommunity #pdxcannabis #pdxstoners #flavorchaser #cannabisreviews #cannabiscommunity
Advertisements