Strain Review: Point Break by Surfr Select
There's been this phenomenon I've noticed lately. It seems like more and more breeders are getting into the rec game. Chances are pretty high that you've tried @surfrseeds genetics, and now you can buy flower like this Point Break strain directly from their farm @surfrselect. Isn't the future amazing?
Lineage/Genetics: Tropicanna Cookies x Trophy Wife (Wedding Cake F2)
Original Breeder: Surfr Seeds
Grower: Surfr Select
Dispensary: TreeHouse Collective or Oregrown
Terpene Profile: Unknown
Surfr Select Point Break Strain Review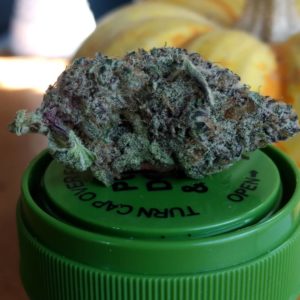 They just dropped two strains that have made a very big impression on my Instagram feed. I grabbed the Point Break from @thc.pdx the day after it dropped.
I've had some Point Break before. I thought it was good, but this stuff is fantastic. It has the Tropicanna notes from its parent, but more rounded than a pure Trop. It has the kushy gas hiding underneath that sets it apart. It's more geared for morning use than the Chemical Sunset. The effects are functional, but not necessarily energetic or perky.
I'm gonna review as much from these guys as I can. They're gonna be doing a drop in around a week, and I'll definitely be getting some of that.
So, if you're looking for my sativa pick of the past few months, this may be it. Everyone's been smoking this Point Break recently. @surfr has managed to really establish themselves as one of the best in the market with just a few drops.
Honestly, I'm not as thrilled about this batch of Point Break as I have been with others, but man was this stuff beautiful. The smell was a bit more muted than past batches, though, which is why I'm not quite as excited about it.
There's a general orange juice note from the Trop in its parentage, but it also had both zest and orange blossom notes in there. I'd expect more gassy, earthy notes from the Trophy Wife parent, but it's just all over those orange notes the more I get into it.
It's not a buzzy sativa high like Jack to me. Leaning more towards the squinty eyed, "baked" effects, it's great for enjoying a sunny day or just starting a day in a nice, relaxed fashion. It's generally been my functional hybrid when the Dirty Bananas is gonna hit too hard for what I'm trying to get done.
As usual, I grab all my @surfrselect weed from either @oregrownindustries or @thc.pdx. They know how to take care of me just right, and that keeps me coming back and recommending them to everyone. Both of them have pretty much unparalleled selections and the kind of budtenders that you really appreciate as a customer.
My posting schedule is gonna be a little weird for the near future. I'm getting on new meds for the first time in years, and shit's kinda weird. I'd rather not post than post a half assed review, ya know? Anyway, stay tuned, because I still have some fire weed reviews coming up. Thanks for reading and supporting my shit, guys.
.
.
.
#thehighestcritic #surfrselect #strainreview #strainreviews #weedreviews #420review #portlandcannabis #OMMP #portlandweedreviews #mmj #oregoncannabiscommunity #portlandcannabiscommunity #oregonweedreviews #Medicate #oregoncannabis #medicalmarijuana #pdxcannabiscommunity #pdxcannabis #pdxstoners #flavorchaser #cannabisreviews #cannabiscommunity