Strain Review: Cypress OG by Amplified Farms
Next up from Amplified Farms is their Cypress OG. This is none other than the old school OG Kush.
Lineage/Genetics: OG Kush
Original Breeder: Unknown (Cypress Hill's DJ?)
Grower: Amplified Farms
Terpene Profile: Myrcene Dominant
(Myrcene 0.892%
Limonene 0.561%
Beta-Caryophyllene 0.343%
Linalool 0.169%)
Cypress OG Strain Review
Total THC: 34.895%
Total cannabinoids: 42.426%
Total Terpenes: 2.313%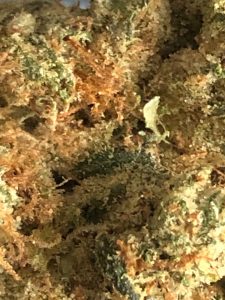 The lemon hits first, then the earthy, spicy tones, then the pinecones.
The high creeps. The smoke flavor is as sour as the nose promised me. It isn't just full bodied, it is perfect bodied. It hits harder than expected, but is smooth enough to stifle a cough.
This high hits a nostalgic note. With a gong.
This is what I imagine Katt Williams means when he describes the looking-at-the-fridge-for-three-hours high. As long as one other person is able to relate, I will be happy. This high is one that has been lost to the mass market in its pure form. There are plenty of strains out there that are strong enough to get you somewhere where staring at a fridge is a side effect of your high – but that isn't the stare-at-the-fridge high that got a shout out on stage.
Anyways, I guess my point is don't smoke this in your kitchen? But do smoke it.
In conclusion: puff puff on this all day err' day. Another buy more than one or you'll regret it alert.
Full test results: https://lims.tagleaf.com/coas/hjcUxDitGKV3pJ3I4HRIwGUAuROXYCF6E3Fd57xSp0wYsfrZBc
More info: https://amplifiedfarms.com/cypress-og/
4spiring trailblazer.
2day, I'm thankful for my readers.
0h, and Grand Mammy Green.