Strain Review: Pineapple Upside Down Cake by Mad Cow Genetics
The Pineapple Upside down cake strain by @madcowgenetics
Lineage/Genetics: Pineapple Trainwreck x Cookie Monster
Original Breeder: Mad Cow Genetics
Grower: Mad Cow Genetics
Pineapple Upside Down Cake Strain Review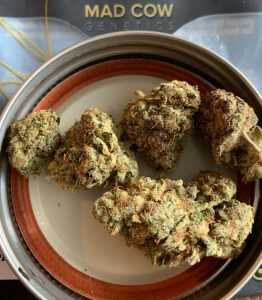 So when the @silverstreak_s delivery man showed up and handed me the bag I immediately exclaimed "Wow, something is loud in here!!" I went inside and quickly found out that it was this strain right here. My god is this strain loud.
Not only a super danky smell right off the back, but as soon as I popped the seal the room was filled with a smell reminiscent to sweet canned pineapple! I cannot stop smelling this strain. Even @gizmothesquish wants to smell it. ☺️I can't believe how pineapple-y it is!!
@madcowgenetics are the cure masters!! Sticky, fairly dense nugs.
The high starts out kind of heavy in the head, probably from the pineapple, but mellows out into a really chill high that made everything from music to food that much more enjoyable. Very nice strain and I'll definitely be visiting this brand some more!
#madcowgenetics #pineappleterps #hybrid #dopesmoke #topshelf #christianlovescannabis #maryjane #norcalstoners #realmedicine
Photos by @christianlovescannabis