Strain Review: Dum Dumz by Kush Rush Exotics
DUM DUMZ
Lineage/Genetics: Zkittlez x Gelato
Original Breeder/Grower: Kush Rush Exotics
Dum Dumz Strain Review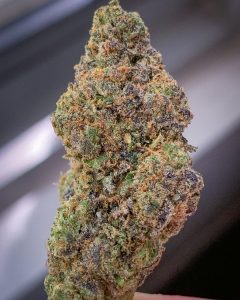 // Hybrid (~26% THC)
By: @kushrush_exotics
Via: @24k_exotics
Dum Dumz, by Kush Rush Exotics, is a strain that only recently appeared on my radar. As always, @24k_exotics was one of the first to bring it to the city. Dum Dumz possesses a dense, tightly packed bud structure and a bright rainbow colored exterior, giving the strain an candy like appeal. Uncharacteristically light lime/sea foam greens blend seamlessly into sangria purples, as well as streaks of a distinctive dark turquoise color.
A cross between Gelato and Zkittlez strain is bound to produce some flavor. Dum Dumz exceeds all expectations with a whole spectrum of fruity terps. Opening the jar, the senses are flooded with a sweet and sour funk with heavy grape overtones. The inhale is surprisingly heavy on the diesel, but adds a unique 'berry punch' zing and a peppery, lavender like finish. To me, this strain had the base flavor of a classic Zkittelz but the infusion of the Gelato really seems to highlight the heavy hitter traits.
To put it simply, Dum Dumz hits like a truck. Only a select number of strains have me questioning whether to hit another bowl, Dum Dumz is one of the few. An instant jolt to the head initiate the strains effects. That forehead pressure remains while a euphoric and creative trance takes a strong grip and soon makes its way from head to toe. A warming body buzz is present throughout, masking all pain and physical stress from manifesting for a few hours. This is the ideal hybrid strain given its full body effects.
Big thanks to @24k_exotics for introducing me to Kush Rush flower and providing these Dum Dumz. One of my favorite strains thus far in 2020. Be sure to check out there current menu — all exotic, all gas.
#Budfinder
•
•
•
•
#dcbud #dc420 #420 #dcweed #mdweed #stoner #marijuana #dccannabisculture #strainfinder #thc #dccannabis #dcdabbers #puffpuffpass #dopesmoke #dmv420 #topshelf #stoner #whiteashonly #cleanmeds #i71 #kushrush #kushrushexotics #Dumdumz
Advertisements