Strain Review: Gelato #25 x Dosidos by Magic Hour Cannabis
I've been trying to get a @magichourcannabis review out ever since I reviewed their Gorilla Glue a few months back. At the time I was trying to diversify the farms I was reviewing. While I still think that was the right move, adding these guys as some kind of diversity hire does them a disservice. Will and Adriana do an amazing job, and the quality of their product has improved considerably from the already good position it was in ~6 months ago.
Lineage/Genetics: Gelato #25 x Dosidos
Original Breeder: Archive Seed Bank
Grower: Magic Hour Cannabis
Dispensary: Amber Light
Gelato #25 x Dosidos Strain Review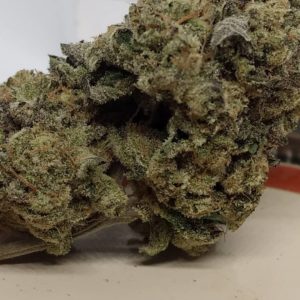 Will hit me up to let me know that @amberlightpdx had some of their Gelato 25 X Dosidos in stock, and even offered to comp the eighth for me. I'm super glad he did, not just because I appreciate it when growers value the work I do enough to compensate me. This stuff kicks ass. I'll be getting more from these guys, and urging to places like @thc.pdx and @oregrownindustries start carrying them. The fact that I can't avoid Green Bodhi's boring terps, but have to search out Magic Hour needs to be remedied.
Terps are a real nice mix of the two parents. Some of those sweet, mildly fruity ice cream notes from the Gelato 25, and a pleasant chocolate mint flavor from the Dosi. I'm guessing this is an Archive strain, but I haven't looked into it yet. The cure is also super noteworthy to me. A lot of farms don't take the time to cure properly, the rush dry ass, unstable terps to the market and fuck things up for folks like me. No such problem here. Anybody can grow good weed in 2021, it's those touches that set you apart.
The high was a classic to me. When I was young and asked someone what being high was like, the best description I ever got was "kinda tired, but really happy". That's how I felt after a single bong rip of this stuff. Tired, not necessarily sleepy, and just so wonderfully giggly. I really enjoyed this stuff.
I'm glad I got a chance to stop into @amberlightpdx. For ~$80 I left with an eighth of this, an eighth of Animal God from @white_wolf_cannabis (review coming soon), and a gram of Spiked Garlic Breath full spec rosin from Decibel. Not bad at all. Swing by and grab some of that good shit. They have these neat square drams that I wish were UV protected.
#thehighestcritic #strainreview #strainreviews #weedreviews #420review #portlandcannabis #OMMP #portlandweedreviews #MMJ #oregoncannabiscommunity #portlandcannabiscommunity #oregonweedreviews #Medicate #oregoncannabis #PNWStoners #PDXcannabiscommunity #pdxcannabis #pdxstoners #cannabiscommunity #cannabisreviews