Strain Review: Gelato 41 by Alien Labs
Gelato 41🌰🍧⛽
🌴@connected.california
👽@alienlabs
Lineage/Genetics: Sunset Sherbert x Thin Mint GSC
Original Breeder: SHERBINSKIS
Grower: Alien Labs
Gelato 41 Strain Review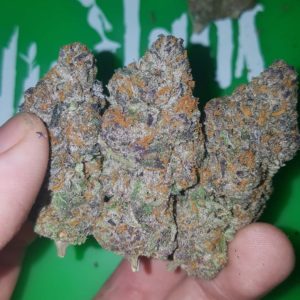 This Gelato 41 is looking crazy and smoking even better. Terps are reeking with super sweet hazelnut/chocolate cream and some gassy funk. Terps are so loud that a joint of this is starting to remind me of hitting the gelato 41 @alienlabs live resin cart that @friendlyfarmsca ran. This 41 is glistening in the light and looking prettier than I've ever seen. Smoke is bone white, smooth and hitting hella hard.
It's the classic bacio indica hybrid high that reminds me of a smooth blend between the heavy hit of sherb and the psychedelic trip of thin mint. This batch is crazy, and it's smoking as the best 41 I've tried so far. 🔥🔥🔥🔥🔥 @bud.of.all.colors @_____.mml
Intestellar Gelato 41 Review
This girl is blowing hazelnut🌰 ice cream🍧 funk⛽ terps everywhere. She's so loud she comes with a headphone warning for your neighbors because they're definitely gonna smell this through the bag and some. Looking blacked out and iced to the bone, this 41 is that interstellar batch 🔥🔥🔥💯💯💯 smoking clean, terpy, and smooth.
If I had a nickel for every time I had 41 this good, I'd have one nickel, maybe 2. This is the strongest batch of 41 I've personally smoked so far, and I'm liking this smoke on the level of @alienlabs kryptochronic and cosmic crisp I had a while back. This one smacked me crazy hard in the chest and the face so hard I got knocked into space. This #interstellar batch of 41 flipped my brain inside out and sent me on a cerebral journey. Creativity, music, smiles, happiness, daydreaming, it had the whole package. It's a bit hard to do critical thinking but the entertainment value on this cerebral trip is insane!! 💯
It's hella good for anxiety too! I'm normally a stickler about being early to appointments, but this one had me smiling and laughing even when I was running slightly late 😂 (normally I get crazy anxious if I'm even running five minutes late to the point I feel hella nervous). It gave me a bit of couchlock and laziness but nothing a bit of caffeine couldn't cure. Pain relief and muscle relaxation is also quite strong with this 41 which is awesome to have that without much couchlock. 41 might not be my all time favorite gelato phenotype, but this interstellar batch of 41 is definitely the highest quality gelato I've ever smoked to this day.
Advertisements