Strain Review: Gushers from Connected Cannabis Co.
Gushers⛽🍒🍧
🌴@connected.california
👽@alienlabs
Lineage/Genetics: Triangle Kush x Gelato
Original Breeder: Cookies Fam Genetics
Grower: Alien Labs
Dispensary: Connected Cannabis
Gushers Strain Review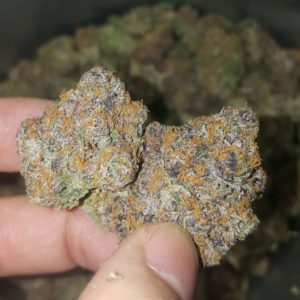 The terps on this have gotten a lot gassier. I always remembered this strain as having a slight note of gas, but on this batch they really turned that up. It reeks of gassy sweet fruity ice cream that kind of even reminds me of the licorice terps from @alienlabs Galactic Gas. Just like the 🔥batches of Gushers I've tried in the past, this one is cosplaying Ronald Weasley with the orange hairs. Add the purple and white coat of trichomes and this Gushers is looking hella pretty. Burns smooth, white, and like the gelato 41, it's hella sticky. Big colas stick together quite easily.
Gushers has always been a stranded island strain for me because of how full spectrum the hit feels to me, and this is no different. I get a deep heavy relaxation, but I also get hit with an uplifting euphoria that leaves me in the best of moods and full of laughter. This Gushers is quite potent, and it's hitting pretty crazy. You guys probably know how much I love @connected.california Biscotti, but this particular batch is giving Biscotti a run for its money. I'm absolutely impressed at how ridiculously crazy Connected Gushers is smoking. If they keep coming like this, Gushers might dethrone Biscotti in my top 5 favorites… And I honestly never thought I'd live to see the day I said that. @bud.of.all.colors @_____.mml
Advertisements