Strain Review: Goji Margy by MÜV Florida
Here we have @muv.fl with Goji Margy.
Lineage/Genetics: Pine Soul x Frozen Margy
Original Breeder: Cannarado Genetics
Grower: MÜV Florida
Dispensary: MÜV Florida
Goji Margy Strain Review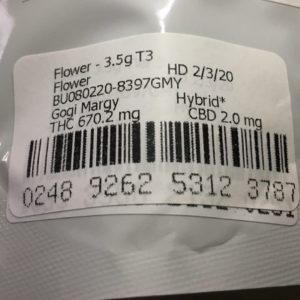 They've been catching a lot of flack lately for their moldy Guru on @floridastrainman page's review and for good reason, which has made me a bit hesitant to post a review of their products lately. So I took some time to think on it all. There should NEVER be mold in our medicine. But, shit happens, and if it's taken care of accordingly, then we should have all the more respect for a company to take such swift actions to further prevent these things from happening. Im not vouching for Müv because they could very well fuck up again. But something like this was bound to happen eventually.
Mold was a very serious problem in some NJ dispensaries last year and their medical cannabis program isn't very old. I still like @muv.fl and their products and I'd hope their quality will only go up because of all this, but only time will tell. So far I haven't had issues with their products besides a barely used cartridge stop working on me, so I'll tread lightly and pick up rosin and flower on occasion when I'm in their area.
At least we know Müv doesn't use those super expensive machines used to kill mold on harvested cannabis using radioactive pulses, which is becoming a thing on the West coast now. This Gogi Margy was good. Smaller, dense nugs. A bright, skunky smell and taste and a nice, uplifting hybrid effect. I've always liked their flower, but I'll be thoroughly inspecting anything I get from them in the future, that's for sure👌🏼. Perhaps a good step for them would be to allow Florida patients to look up certificates of analysis by batch number through their website…
THC: 19.15%
CBD: 0.06%
#indicadam #southflorida #cannabiscommunity #flmedicalmarijuana #floridamedicalmarijuana #legalcannabis #cannabis #strainreview #floridacannabiscommunity #flmmj #nugshot #medicalmarijuana #floridacannabiscoalition #floridacannabis #thc #mmjpatient #mmj #terps #terpenes #medicate #medicine #muvfl #flower #sativa #indica #hybrid #gogimargy
FL mmj patient
Cannabis advocate cataloging strains available to patients in beautiful Florida🌞
Nothing for sale🚫
18+ page only🔞