Strain Review: Golden State Banana
Golden State Banana (tested at 30% THC)
Indica dominant hybrid
Gifted to me by @districtconnoisseurs a few weeks ago.
Lineage/Genetics: Ghost OG x Banana Kush
Original Breeder: Synergy Cannabis
Golden State Banana Strain Review
Aroma: 7/10
Flavor: 8/10
Effects: 9/10
Overall: 9/10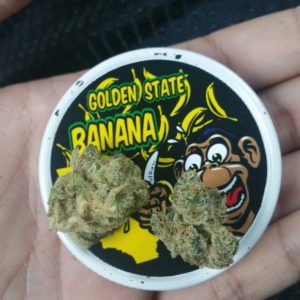 Smells like bananas, but it's not overwhelmingly strong. It's a subtle sweet fruit smell. The smoke tastes creamy and smooth with a hint of sweetness.
This is a potent indica strain that will CREEP on you. For a 30% thc flower, I thought it was underwhelming AT FIRST, so I smoked more. 30 minutes later I was on another planet. I can't remember the last time I've been that high off two bowls. I strongly recommend waiting 10-15 minutes between bowls. This comes with all the typical indica effects you'd expect. Relaxation, couch-lock, hunger, happiness.
It also induced quite a bit of laughter. At times, I was laughing so hard I sounded like a screeching monkey. This is also great for insomnia. I recommend this at the end of the day, as it can easily derail all your plans if you have anything to do after you smoke this flower. I am speaking from experience. I usually have to call it a night after smoking this flower unless I'm mixing it with other sativa strains.
Check out more of my reviews @dcent_treeviews on Instagram! (www.instagram.com/dcent_treeviews)
Advertisements