Strain Review: Bananalato by Synergy Cannabis
New Review time! @synergy_cannabis @golden_state_banana Brand: Synergy Cannabis
Strain: Bananalato
26.98%THC
Lineage/Genetics: Banana OG x Gelato #33
Indica or Sativa: Indica dominant Hybrid
Original Breeder: Synergy Cannabis
Grower: Synergy Cannabis
Bananalato Strain Review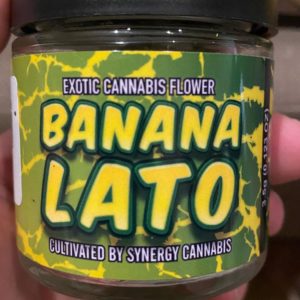 Comments: Woo. The force is strong with this one. Lil banana stand never hurt no one. I've had GSB from them, also the Elyon collab and the banana Runtz, which was almost a year ago.
Review:
1. Scent: Musky. Some slight ripe notes of banana and just a touch of spice. Didn't smell old but the banana didn't over power like previous purchases from them.
2. Appearance: Pretty kolas with yellow orange and green. Flashing a little in the trichomes dept atop the deeper green color little bits of purple tucked in from the gelato parent.
3. Nug Structure: Tight buds on the money nug. Little dry as it's from a February run, but it didn't break like dust even after holding it here for a week at home without orange peel. Cured bud is one thing, dry bud is a whole different situation but I'll say it didn't bother me much, but have to note it.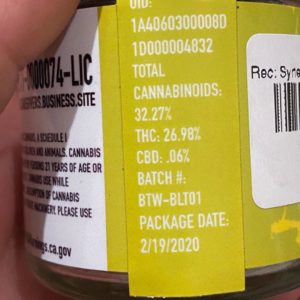 4. Smoke: First bowl after cleaning the bong and I coughed but the lady didn't. Usually the opposite. Grabbed both side of the throat and filled the room on exhale. 2nd hit was about 75% full rip and was much better on the chest. Blast off.
5. Taste: Toasted notes of banana, a slight hit of that gelato sweetness along with some more of that pepper. Didn't stay long on the after taste though.
6. Reaction: First bowl of the day smoke got my mind rushed and body lazy. I def was more anxious off this than anything I've had recently so that kinda took me by surprise. Took about 2 hrs to come back to reality. Lol! Previously, having this cycle through our sessions, it's the knock out blow before bed.
7. Conclusion: This was an older run so the bud was a little dry. Got me straight stoned hard, it's not for a rookie. The higher THC was nice but damn, the entire last 30 mins of my high was basically "this over yet? I gotta go get dinner" so don't smoke this if you have stuff to do. I'll explore other options from them for future reviews since I know this is a 😴 KO strain and I wanna get my hands on their other less potent stuff. Def a higher ticket price for sure but ya def get what you pay for.
#cannabiscommunity #cannabis #cannabisreviews #trees #weed #weedreviews #pot #potreviews #thc #sacramento #916 #420 #yee #legal #strainreview #california #valley #thehighestcritic #theresalwaysmoneyinthebananastand #banana #goldenstatebanana #nana #stoner