Strain Review: Hazy Kush by Green Bodhi
I was really excited to see @greenbodhi back on the market. Their reputation is pretty stellar in the cannabis community, and their work speaks for itself when it comes to breeding. I gotta say, though, the Hazy Kush I got from @tetra.pdx didn't really blow my mind.
Lineage/Genetics: Mystery Haze x Golden Pineapple(?)
Indica or Sativa: Sativa dominant Hybrid
Original Breeder: Green Bodhi
Grower: Green Bodhi
Dispensary: Tetra Cannabis
Hazy Kush Strain Review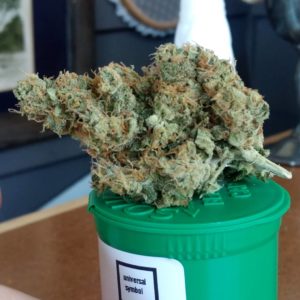 My first impression when I cracked open the dram was lemon cleaner. It's got that astringent citrus aroma that's become super common these days, not necessarily for the better. I think that a lot of strains with that flavor profile and scent tend to come through pretty harsh in the smoke, and that's kinda what happened here.
The high is fine. It's got some of that dreamy quality I've come to associate with Haze-related genetics. Beyond that, it's fairly functional and doesn't have a strong body high to me. It would serve pretty well in the morning if it were smoother.
If I had to rate this, I'd give it like a 6.5/10. There's far worse out there, but it's just not one I can recommend, especially considering the price tag these guys fetch at every shop that carries their products. I'm gonna keep giving them a chance. With the reputation they have, I'd be doing myself a disservice by forming a hard opinion off a single unimpressive offering. If anyone has something from these guys you especially like, let me know so I can know what to go for first.
.
.
.
#thehighestcritic #greenbodhi #hazykush #strainreview #strainreviews #weedreviews #420review #portlandcannabis #OMMP #portlandweedreviews #mmj #cannabiscommunity #oregoncannabiscommunity #portlandcannabiscommunity #oregonweedreviews #Medicate #oregoncannabis #cannabisreviews #medicalmarijuana #pnwstoners #pdxcannabiscommunity #pdxcannabis #pdxstoners
Advertisements