Strain Review: Cryo Cured LA Wedding Pop by Excelsior Extracts
LA Wedding Pop (Cryo cure)
Lineage/Genetics: Wedding Cake x Triangle Kush bx2
Indica or Sativa: Indica dominant Hybrid
Original Breeder: Seed Junky Genetics @seedjunky_jbeezy @seedjunkygenetics_jbeezy
Grower: Excelsior Extracts @excelsiorextracts @the_original_outkastt
Cured with @cryocurecannabis
Cryo Cured LA Wedding Pop Strain Review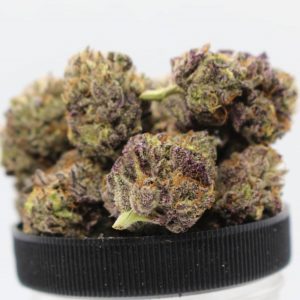 Appearance – Once this jar was recieved and I saw the plump fluffy beautifully structured nugs I was in love, subtle tones of lime green are scattered throughout the steady sea of purples, the trich coverage is absolutely insane as of it was a frozen sheet of ice pulled from a cryogenic chamber. The texture of the flower was like lucky charms marshmallows but was still soft and fluffy like a little cloud of joy, once cracked ooen the flurry of purple continues along with the abundance of frosty sugar.
Smell – As I have a whiff into the jar that same clean fresh scent that has been in every Excelsior jar I have had is what hits my nose first, I inhale deeper into the jar and a bit of a crisp purple undertone smooth as can be smack me soon after, once broken open a sweet mouthwatering gas musk was emitted into the room and I was ready to give her a few rips.
Taste – On my inhale I was hit with a very smooth airy purple flavor that was absolutely killer, my exhale was super smooth as well but had a creamy cake gas that stuck to every part of my mouth, an absolutely A1 in the flavor department.
Effects – Around two snaps of the @mobiusglass i could feel my buzz begin to take hold, it began at the front of head as a pressure built as if someone had their hand pressed atop my head and my mind races ever so slightly. After my third I was completly ripped, I sit staring blankly into my notes attempting to write, I am getting lost in deep thoughts yet I am focused just here but not here, the high has now begun to hit my body as a numbing sensation sinks in as I slip deeper into this coma inducing trance. I would recommend this strain to indica lovers or anyone that suffers from muscle pains or anxiety or insomnia be mindful of dosage because she is a potent one depending on who grew it.
5+stars ⭐⭐⭐⭐⭐⭐ this product here is a killer example of what good potent clean meds should be.
Many years of love,time,studying and dedication tonthisnolant have been put in to perfect this craft so finely, to the team keep on crushing it.
#cannasuer #initiative71 #i71 #cannabiscommunity #eastcoastcannabis #excelsiorextracts #connoisseur #worcestercannabis #eastcoastcannabiscommunity #eastcoastgrown #420reviews #CannasaurusRex #iykyk