Strain Review: Gorilla Glue by DC Pharm
GORILLA GLUE 🦍 (Hybrid strain)
Lineage/Genetics: Sour Dubb x Chem's Sister x Chocolate Diesel
Original Breeder: GG Strains
Grower: DC Pharm
Gorilla Glue Flower Review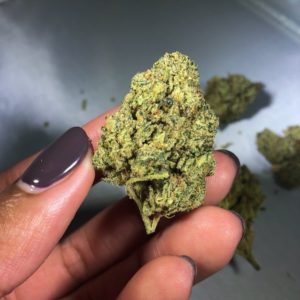 One of my favorite strains that I keep coming back to, Gorilla Glue is the product of extensive "backcrossing" of Sour Diesel, Chem's Sister, Sour Dubb and Chocolate Diesel. It's lineage is a bit of a mindfuck, but the end result is a perfect strain for its intended effects.
Gorilla Glue has an attractive pale green color with dark purple undertones and subtle orange pistils. Gorilla Glue is known for smaller sized, buds given the ease at which this stain naturally breaks up. Gorilla Glue is both dusty with trichomes, and sticky upon pressing and/or grinding. Gorilla Glue's odor is immediately piney, but also rich in diesel flavor and subtle chocolate undertones, courtesy of its complex genetics. The taste is as expected; earthy, piney, and mildly sour. Not the strongest tasting strain, which I've read may be a natural product of higher THC content in the strain.
Gorilla Glue's effects hit pretty hard and almost instantaneously. The strain derives it's name from it's famous "Couch Lock" effect. Sedation and a tranquilizing effect are to be expected. Despite its namesake, I am always surprised by the relative mental clarity, stimulation and euphoria this strain provides, while keeping your body "glued" to the couch. Definitely an evening or lazy day strain. I happened to be working when I first opened my gift of GG, and my productivity certainly suffered, but i was NOT complaining.
GG was gifted by the team at @d.c.pharm
I've really been enjoying this service, not for the quality of gifts, but for their customer service and willingness to answer questions about their products. Please give them a try!
#Budfinder
•
•
•
•
#dcbud #dc420 #420 #dcweed #mdweed #stoner #marijuana #legalizedweed #dccannabisculture #strain #strainfinder #thc #dcgrown #dcgrowers #cannabisdaily #dccannabis #dcdabbers #dcedibles #puffpuffpass #dcnightlife #dmv420 #topshelf #devilslettuce #stoner #whiteashonly #cleanmeds