Strain Review: Grape Cake Head #19 by Jungle Boys
Jungle boys
Grape Cake Head#19
Lineage/Genetics: Grape Head x Jungle Cake
Original Breeder: Jungle Boyz
Grower: Hezekiah Inc.
Terpene Profile: Unknown
Grape Cake Head Cannabis Cultivar  (Strain) Review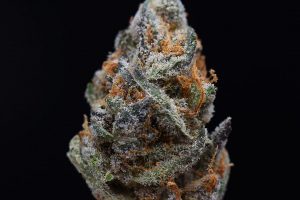 Grape Head x Jungle Cake
Appearance/Structure- Buds are light and fluffy. Primary coloring is a sandy light green with violet purples and bright orange pistils. This Grape Cake Head is covered in shiny trichomes.
Nose- I get major citronella notes with this batch. Pungent citrus, earthy, sweet.
Smoke-The smoke is smooth and earthy with hints of citrus and pine.
Effects-The high is relaxing and calming without knocking you out. It's a great strain to smoke anytime of the day.