Strain Review: Grape Durban (Durban Poison x Grape Pie)
I try to mention/tag the farm that grows my weed every time I post it (like I'm some kind of big shot), but this is the second time I've picked up some stuff from this farm and haven't been able to find out a thing about them beyond an address.
Lineage/Genetics: Durban Poison x Grape Pie
Original Breeder: Boring Weed Co.
Grower: KFG Partners LLC
Grape Durban Strain Review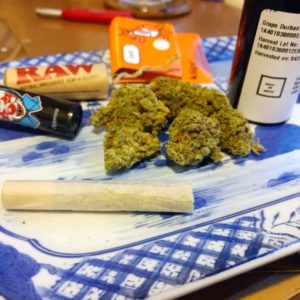 So, KFG Partners LLC, your Grape Durban is fucking dope, and I don't remember the other cultivar of yours I had, but that was fucking fire, too. Keep selling good weed to @tetra.pdx so I can keep buying it.
Cute little fatty for your viewing pleasure as well.
.
.
.
#portlandweed #highaf #durbanpoison #grapedurban #sativa #OMMP #cannabiscommunity #justblazeig #weedporndaily #weedstagram420 #weedporn #highsociety #higherthanmost #bud #ganja #weed #marijuana #cannabis #wedontsmokethesame #weshouldsmoke #designerweed #oregonweed #dank #highgrade #iloveweed
Advertisements