Strain Review: Heavy Duck Sauce by East Side Eggroll x Ted's Budz Co
Heavy Duck Sauce 8th by East Side Eggroll x Ted's Budz Co.
Lineage/Genetics: Platinum Zkittlez x Gelato 41
Original Breeder: Unknown
Grower: East Side Eggroll x Teds Budz Co
Terpene Profile: Unknown
Heavy Duck Sauce Cannabis Cultivar (Strain) Review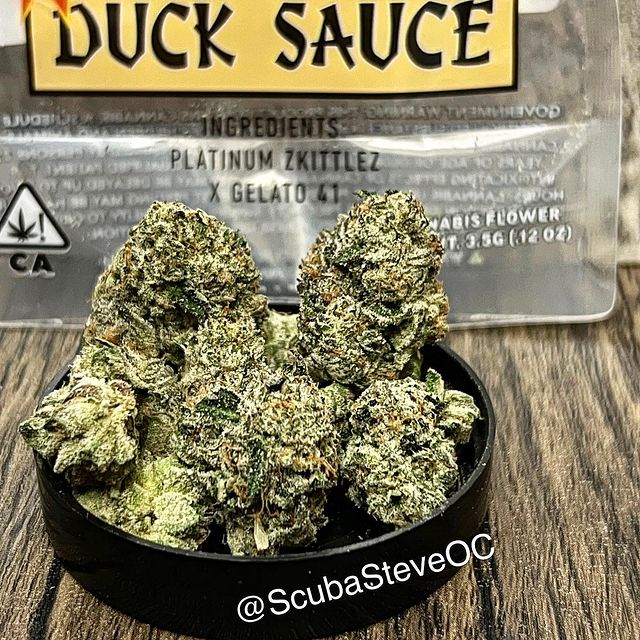 This batch is testing at 35% THC & 36.23% Total Cannabinoids. Heavy Duck Sauce is a cross of Platinum Zkittlez x Gelato 41. The nose out of the bag is very candy like, the Zkittlez really comes through at first but it also has a very fresh vaporous backing that becomes more and more prominent the longer you try to work through the other scents. It's a bit of hostile nostril take over. Breaking open the bud, you get a sense for its mild density, it's not super fluffy but has a good give to the squeeze. The nose gets slightly brighter but is essentially the same as the bag, it has that candy sweetness trying to take dominant spot.
It does seem to have a more lemony lilt, but there's a touch of orange as well. Breaking it down by hand leaves a string presence of candy sweet vapor on your hands, while grinding it brings the scent into its final form and it becomes the very definition of fruity candy gas. The harmony in the fruity candy scent feels like it cascades across my sense of smell, unfolding like an accordion, bringing that fuel and a slightly distant perfume like floral as well. I really love this aroma.
The inhale on a joint comes with a sugar sweet citrus, with an emphasis on that sugary aspect, while the bing comes with an extremely light lemon lime. The exhale on the joint comes with a tasty candy gas that widens out into a nice orange like finish with a touch it lime, whereas the bing comes through with a musty sweet cream and a hint of chalk. The high was nice and well balanced. The reputable heavy body high that you'd expect from the Gelato 41 genetics combine fantastically with the more head based high from the Platinum Zkittlez. This left me with an initial release of energy and boost in my general mood, leaving me feeling sociable and happy.
Perfect for mid-day to evening smoke. I am in love with the flavor of this strain. Tedz Buds Co & Eastside Eggroll did an phenomenal job on this one. I highly recommend you don't sleep on this strain
@tedsbudzco_
@tedsbudzgoods
@eastsideeggrollpypo
#tedsbudzco #eastsideeggroll #420 #heavyducksauce #scubasteve #scubasquad #cannabisconnoisseur
Advertisements