Strain Review: High-C by Top Shelf Cultivation
Official High-C (Ecto Cooler)@topshelfcultivation_
Lineage/Genetics: California Orange x Gorilla Biscuit
Original Breeder: Seeds of Compassion
Grower: Top Shelf Cultivation
Official High-C Strain Review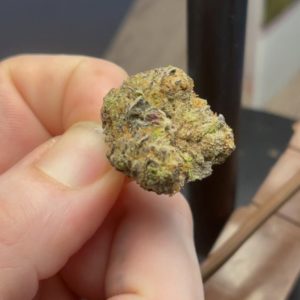 First impression- high c is from top shelf cultivation, mostly know for their whoa-si-whoa cannabis cup winner. This high c is a cross between (California orange x Gorilla biscuit) it's a 50-50 hybrid checking in at 31%. Thc and 38% cannabinoids.
Weight check- 3.5 (10/10)
Aroma- creamy dankness with a cheesy background, citrus background with slight pine (9.5/10)
appeal – mostly dark buds, purple almost black with sandy brown kief and trichromes. Very very dense. Almost to dense honestly… (8/10)
After grind -Upon grinding it up the bud was very dry even though I put a humidity pack to try to bring it back it stayed excessively dry even after the grind. The cheese smell is more prominent after the grind, purple/blackish bud dominated the color spectrum after the grind also. (3/10)
Taste- This first hit tasted harsh almost like a burnt seed or stem & I did find a seed casing in my grinder afterward. after the 2nd and 3rd hit that cheese comes out more. Good taste change more hits in. Dank cheese and cream. Maybe orange tang and pine? lingering in the cheese. (6/10).
Effect & medicine – 50-50 hybrid but def feels sativa. It's mostly from the neck down and my brain is flowing. Somewhat relaxing. (6/10) (I might be biased a point here cuz I don't like sativa lol)
Puff or pass: close call but it's a pass. The tipping factor was the price. Good but not that good, as long as @cannabiotix is going for 30% less than these other brands there really isn't a reason to pay more for less. Candy land was really good though. But still price needs to drop.
Overall rating: 7/10.
Nothing is for sale! PHOTOGRAPHY AND REVIEWS ONLY!! #420 #710 #cannabis #cannabisreview #cannabiscup #cannabiscommunity #ᴡᴇᴇᴅᴘᴏʀɴ #sandiegoweed #sandiego420 #californiaweed #calibudreviews #californiacannabis #kush #indica #sativa #growyourown #weed420 #hash #socal420 #weed #ᴡᴇᴇᴅᴀʀᴛ #cbxlife #710labs #weedstagram #medicalmarijuanna #rosin #liverosin #persyrosin #cannabisculture #420photography Shout out to @inspectorganja562 this dudes got great reviews on all the best, check him out he gave me some inspiration to step my game up a bit.
Advertisements