Strain Review: Kobe by Meraki Gardens
Next is Kobe by the one, the only, fuck Federer, they're the real GOAT, @merakigardens.
Lineage/Genetics: Purple Punch x LA Confidential
Original Breeder: Symbiotic Genetics
Grower: Meraki Gardens
Kobe Strain Review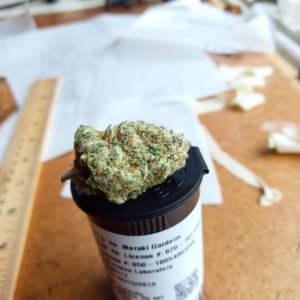 I will buy any @merakigardens product over almost anything else. Their stuff consistently helps me get to sleep comfortably and anxiety free, which is huge for me. When you're dangerously underweight due to inability to eat, having SEVERAL strains available from one grower that help me eat like a normal person is indescribable. Anxiety, food, and sleep are some of the biggest issues I have, and their stuff routinely smooshes it like a bug.
I know that most of the praise a grower will get is based on how blasted the consumer got, but there are still medical patients out there like myself that appreciate these guys and gals for improving our quality of life. The labor you put in allows me to feel normal, which I don't get to feel very often. So blessings upon you from whatever being in the sky you may or may not choose to believe in. You're doing good things, and I'm gonna keep singing your praises while giving you money until you stop.
Sorry if this is a weird rant. I don't really care.
.
.
.
#thankyoutothefarmer #weedporndaily #cannabiscommunity #portlandweed #designerweed #cookiesorbetter #weddingcake #kobe #indica #hybrid #oregonweed #medicalmarijuana #OMMP #weshouldsmoke #highsociety #appreciateyourgrowers #maryjane #higherthanmost #topshelf #Medicate #justblazeig
Advertisements