Strain Review: L.A. Water by Crown OG
Brand- @crown.og
Strain- L.A. Water
( #lawater )……
Lineage/Genetics: Unknown
Original Breeder: Unknown
Grower: Crown OG
Terpene Profile: Unknown
Dispensary: Apothecary Sherman Oaks @apothecary_818
L.A. Water Cannabis Cultivar (Strain) Review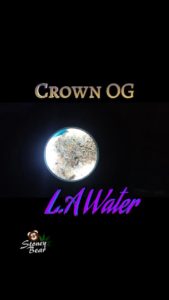 Cultivate by Crown OG and it was a honor to review one of there Summer Collection L.A. Water and I have try there Crown Og and Dizzy Og flower and nothing both of those don't compare to this one here, I'll let you see how the package is and tell you also that it does come in a nice colorful jar (Sorry I didn't add it to review video). But let's talk about this the THC ranges from 28% and i don't really look at these but how the flower actually looks like and from the moment you open the jar your immediately drawn to the gassy and fruity aroma that comes from this one here not to strong but enough to tell you this is actually going to hit you really good, now let's look into the colors and from the initial look you can tell it's cover in trichomes from top to the bottom. Colors range from deep and dark green and purple hues to and some additional colors. Now let's talk about the effects (Deep Body Sensation, Head and Pulsating Eyes, Lungs expanding, Indica type of feeling). Onset ranges from 1 Hour and Half, less if you eat something but still will feel it, keep it towards the night time or evening as the effects might be a little too much in the morning.
Recommend for the experience smokers and those who want to try some nice and unique flowers from Crown OG ( This is one of 3 Flavors Currently Available in selected locations so check them out but I'll post one here.
Thank you again for Crown OG for the opportunity to review one of there new ones. Here's to more future reviews.
…
Thank you @nikd01 @crown.og
@apothecary_818