Strain Review: Liquid Imagination by Alien Farm
LIQUID IMAGINATION – Jet Fuel Gelato x Blue Zkittles
Lineage/Genetics: Blue Zkittlez x Jet Fuel Gelato
Original Breeder: Compound Genetics
Grower: Alien Farm
Dispensary: Area 52 Tenerife
Alien Farm Liquid Imagination Review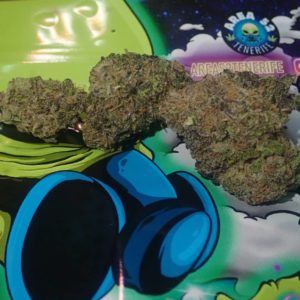 Bred by @compound_genetics
grown and cultivated in Spain @alien.farm52
Today I'm reviewing this Liquid imagination thanks to @area52tenerife for this exclusive fire, its been a pleasure to smoke and I can't wait to get down to try the Orange Sorbet.
This will be the third time around reviewing this strain however, I still feel the need to post a review because this has really set new levels for me when compared with the Liquid Imagination Ive had in the past.
Nice, dense nuggets showing off an array of green shades from emerald greens to darker more forrest-mossy greens with deeper, purple and lilac hues on the surface. Each bud is completely covered with a thick layer of glistening creamy white trichomes.
This is a very rich terpene profile and at first, extremely gassy and musky aromas jump out at me. A slight sweetness can be found behind this, showing me signs of the Blue Zkittlez in its lineage and also telling me this is going to be a special smoke.
The smoke through the bong was super smooth and pure white and the flavour was very musky and gassy on the inhale and then a very slight sweetness behind this however this is massively overpowered by musky rich flavour. The elegant flavour profile reminded me slightly like a Musky Runtz strain that has the gas dial on max.
The Effects were supper hard hitting the relaxing and sedating, full body effects make it a perfect bed time smoke and for the fellow cannaseur this is a very diverse and interesting terp to try.
Thanks again @area52tenerife for the fire..#liquidimagination #area52 #area #hybridstrain #bluezkittles #jetfuelgelato #gas # #purple #hues #musky #rich #sweet #power #topshelfspanis#compoundgenetics #compound #gen #epigenetics #frosty #California #thebestisyettocome #grownherenotflownhere🍁🍁🍁 #letyourimaginationrunwild #smoketheloud #whiteashgang
Advertisements