Strain Review: Paradise Waits (minis) from Trulieve
Paradise Waits (minis) Strain Review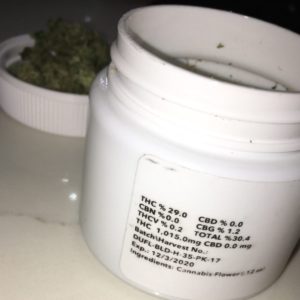 This batch of Paradise Waits I picked up a week or so ago is very potent. You can smell and taste a lot more pinene in this one. A lot more trichomes on the flowers as well💎.
Probably the highest percentage of thc in flower I've gotten from @trulieve_fl and I'm impressed. Very cerebral and focused effects that any sativa lover would enjoy. Helps relieve depression too!
THC: 29%
Taste: 9/10
Effects: 10/10
Nose: 10/10
Followup Paradise Waits (minis) Review:
New batch of Paradise Waits is on point🔥 I love how this strain always comes out to be such a high thc content. Proper genetics for sure👌🏼. Super tasty, frosty nugs that look like Christmas trees🎄.
A wonderful daytime hybrid and usually coming in with a higher THC % than other strains🤘🏼.
#indicadam #southflorida #trulieve #cannabiscommunity #flmedicalmarijuana #floridamedicalmarijuana #legalcannabis #cannabis #strainreview #floridacannabiscommunity #flmmj #medicalmarijuana #floridacannabiscoalition #floridacannabis #thc #mmjpatient #mmj #terps #terpenes #medicate #medicine #sativa #hybrid #paradisewaits
Check out this earlier review of Paradise Waits!
FL mmj patient
Cannabis advocate cataloging strains available to patients in beautiful Florida
Nothing for sale
18+ page only
Advertisements