Strain Review: Northern Hash Plant (minis) from Trulieve
Northern Hash Plant (minis) Strain Review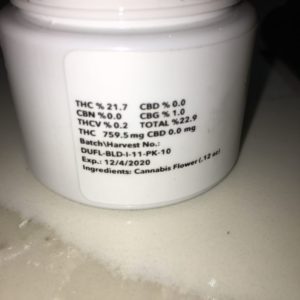 I absolutely love Northern Hash Plant. Whenever @trulieve_fl has some, I grab it. It's great for my anxiety. Also, you'll see I have a lot of minis that I post. That's because I don't think medicine should be priced the way it is especially when there are pricing points based solely around strain and not cannabinoid content.
I would much rather pay $33 for lemon og at 24% than pay $53 for 9lb at 17% when they both have similar anti-anxiety and anti-depressive effects for me. And getting minis is all the more worth it. Based on price of cannabis back in the 70's you could buy good stuff for 20-30 an ounce or even cheaper. Factor in inflation and the increase in potency; nowadays cannabis should cost no more than 20-30 an eighth. Unless there is small batch cannabis bred and cultivated by a pro cannaisseur, I don't feel comfortable paying more than that. And that's why I appreciate companies like Trulieve and others offering ALL of their strains at an affordable price point. Although all of their strains should be priced in this range, at least I can have my pick of whichever one I want at the same potency and quality, just smaller nugs, which is just fine and dandy with me. Sometimes you gotta be grateful for the little things in life! 😜
Ultimately, cannabis is a plant. Non-addictive and unharmful. There's no reason us patients should have to settle for vertical integration when we could and should have the ability to grow our own, save some money, and be able to have the exact strains to treat our ailments. There's too many people out there that take true pride in this plant, but don't have a platform to show it by means of cultivation and/or extraction. Horizontal integration is what's best, plain and simple. It should cost $500,000 to start up a cannabis company, not $50,000,000. Hopefully things will get better in Florida, one step at a time. Sorry, rant over.
Followup review:
New batch of Northern Hash Plant minis from @trulieve_fl 🔥 Always loving this plant or any strain that has to do with Northern lights. Probably one of my more go-to indicas when I'm getting a panic attack. Relaxing and relieving: great for after a super stressful day.
#indicadam #indica #southflorida #trulieve #cannabiscommunity #floridamedicalmarijuana #flcannabiscommunity #legalcannabis #cannabis #strainreview #floridammj #floridacannabiscommunity #medicalmarijuana #floridacannabiscoalition #floridacannabisclub #thc #mmj #terpenes #medicine #northernhashplant
FL mmj patient
Cannabis advocate cataloging strains available to patients in beautiful Florida
Nothing for sale
18+ page only
Advertisements