Strain Review: Oregon Lemons by TruFlower
Oregon lemons – Hybrid
Lineage/Genetics: Lemon Diesel x Face Off OG Bx1
Original Breeder: Archive Seed Bank
Grower: TruFlower
Dispensary: Trulieve
Oregon Lemons Strain Review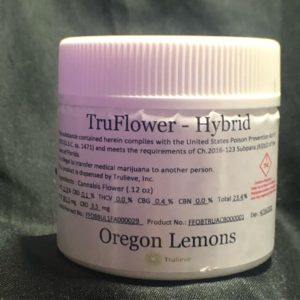 Thc: 22.9%
Medicating prior to seeing @seranationmusic live!
Condition/symptoms: ADHD, pain, stress, depression, migraines
Recommended time of use: night time use preferred, unless you have the tolerance to remain awake,but you will feel very shlumped and heavy.
Head: very focused mind, and narrowed thoughts. Seems to block out negative thoughts could really benefit someone with depression or someone who is just going through it at the moment.
Body: my body feels very tingly and loose, it calmed my spasms pretty quickly and I feel it a lot on my eye lids, they feel very heavy.
Creativity/talkative: very talkative, had a very interesting and funny conversation with my brother. So the talkative part is there strain wise, yet it is not an overwhelming desire to socialize.
Hunger: I am currently thinking of what to make myself to eat after I finish writing this review, I would highly suggest this strain for anyone who had any eating problems or disorders. It can very much help out someone who has difficulty eating health amounts of food as well.
#restlesslegsyndrome #trulieve #truliever #truflower #sunshine #cannabis #sunshinecannabis #sunshinestate #medicalmarijuana #marijuana #mmj #florida #miami #miamibeach #miamiweed #review #weedreviews #indica #sativa #hybrid #cbd #cannabinoid #thc #flower #instaweed #pictureoftheday #picoftheday #photooftheday #frosty #420daily
Advertisements