Strain Review: White Buffalo by TruFlower
White Buffalo- Sativa dominant hybrid
Lineage/Genetics: Romulan x Blackberry Kush x Bay 11
Original Breeder: Unknown
Grower: TruFlower
Dispensary: Trulieve
TruFlower White Buffalo Strain Review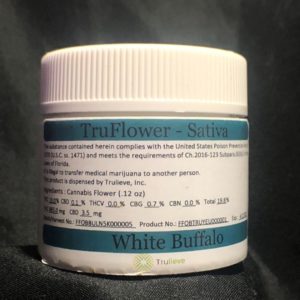 Thc: 19% CBD: 0.1% CBG: 0.7%
Condition/symptoms: depression, anxiety, stress, mood lifter, boost of energy
Recommended time of use: Throughout the day and also for a little wake and bake can never hurt. This strain will give you an uplifting desire to be productive and get [email protected]$ done. You will be extremely focused on the tasks you begin doing.
Head: you will be very focused, alswell ad clear headed. It made any negative influential thought disappear from my head, allowing me to go about my day stress free, and anxiety free as well. Which was a very pleasant morning not having to feel like everyone's eyes were looking and judging my every move
Body: my body loosened up, yet not to the point of complete body pain relief. It did help my sore muscles a little bit, and made it easier to be able to walk and do everyday tasks.
Creativity/talkative: talkativity is there, but dealing with anxiety even the most helpful strain won't make you speak up if you are not in a comfortable environment that being said and Being at home, I can say I had a very creative view and input as well as good communication when trying to explain my end vision with the project that my brother and I were currently working on.
Hunger: I am starving by now, 30 minutes after medicating, my hunger just hit me out of nowhere, my stomach won't stop growling. Someone with mild fatigue, or appetite issues might really benefit from this strain due to the fact that it is a sativa strain, you can Medicare and have breakfast, Medicate for lunch, as well as dinner if you are not trying to go to sleep straight after dinner. .
.
.
.
.
Ignore hashtags 😅👎🏼
.
.
.
.
.
.
#sunshine #cannabis #cannabiscommunity #sunshinestate #medicalmarijuana #marijuana #mmj #florida #miami #miamibeach #review #indica #sativa #hybrid #cbd #thc #flower #instaweed #instapic #insta #instagram #instaphoto #hashtag #pictureoftheday #picoftheday #pictureday #photography #followforfollowback #follow