Strain Review: LA Confidential by TruFlower
La Confidential – Indica
Lineage/Genetics: OG LA Affie x Afghani
Original Breeder: DNA Genetics
Grower: TruFlower
Dispensary: Trulieve
TruFlower LA Confidential Strain Review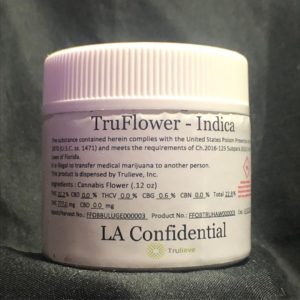 Thc: 22.2% CBG:0.6%
Condition/symptom: stress, pain, depression, insomnia.
Recommended time of use: night time use heavily recommended as it is a strong sedative indica strain
Head: my thoughts were heavily slowed down, I tried writing the review and I woke up a couple of hours later with my phone still on my notes
Body: heavy body sedative and relaxation, perfect for my spasms and anyone who might suffer from chronic pain. This strain would go hand in hand with some light stretching after medicating and getting ready for bed. Or meditation while medication.
Creativity/talkative: not very talkative not creative effects. It does make you feel very cozy and comfortable. Maybe it was the comfy pjs I was wearing, but I just felt really comfortable within my own skin and was relaxed to the point that it felt like meditation.
Hunger: needless to say, I had a huge plate of rice and breaded chicken at around 2am in the morning 😂 😂 before finally being able to go to bed due to my spasms. .
🔥🔥🔥🔥Fire from the @trulieve_fl @trulievegrow 🙌🙌
.
.
.
.
.
Ignore hashtags 😅👎🏼
.
.
.
.
.
.
#restlesslegsyndrome #trulieve #truliever #truflower #sunshine #cannabis #sunshinecannabis #sunshinestate #medicalmarijuana #marijuana #mmj #florida #miami #miamibeach #miamiweed #review #weedreviews #indica #sativa #hybrid #cbd #cannabinoid #thc #flower #instaweed #pictureoftheday #picoftheday #photooftheday #frosty #stoner
Advertisements