Strain Review: Peach Mintz by SherbMoney
PEACH MINTZ
By: @thereturnofgelatokid
Via: @huhh_202
Lineage/Genetics: Unknown
Original Breeder/Grower: Sherbmoney (Gelato Kid)
Peach Mintz Strain Review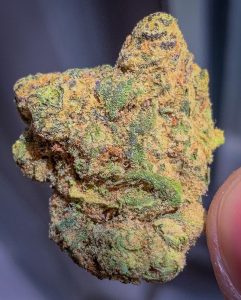 Today we take a look at PEACH MINTZ by Sherbmoney and @thereturnofgelatokid The first observation to be made was the incredible density and tightness of the bud structure (my eighth was one boulder of a nug). The dominant color of these buds is a bright spring green, contrasted by an arrayof eggplant, violet and dark lavender purples and fiery orange pistils. There is an over abundance of creamy trichomes on the surface, which honestly dull the overall color at first glance, but give the bud an off-white almost a pale pink/yellow not all that different from the skin of a peach.
The inhale on Peach Mintz is complex and multi faceted, with a flavorful mix of candied fruit, pine, and spearmint. Less tangy/berry flavored than your typical fruity strains, I found the flavor to be of a more full bodied, smoothie like sweetness. The exhale maintains a minty, malty zest, with an earthy diesel tone introduced on the back end.
Peach Mintz has a body dominant high I really really enjoy. First comes a flush and tingle which travels from head to toe, alerting the body to the incoming high. That tingle soon shifts into a therapeutic and warming glaze as the body begins to feel heavier. A truly satisfying fully body "melt". Cerebral effects were less pronounced, yet supplemented the high with a euphoric floaty haze, adding to the intensely relaxing overall effect.
I want to thank @huhh_202 for introducing me to Sherbmoney flower, which absolutely deserves a spot amongst the more popular exotics in DC. This is a brand I absolutely need to try again, and can't wait to have my hands on some more.
#Budfinder
•
•
•
•
#dcbud #dc420 #420 #dcweed #mdweed #stoner #marijuana #loudpack #dccannabisculture #budtender #strainfinder #thc #cannabisdaily #dccannabis #dcdabbers #puffpuffpass #dcnightlife #dmv420 #topshelf #devilslettuce #stoner #whiteashonly #cleanmeds #i71 #peachmintz #sherbmoney
Advertisements