Strain Review: Boasy by Cali Lotus
BOASY
Butterscotch Hybrid
Lineage/Genetics: Cherry Kush x Durban Poison
Original Breeder: Blem
Grower: Cali Lotus
Boasy Strain Review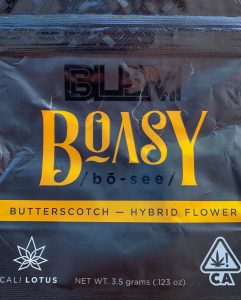 By: @blemvibe @cali_lotus
Via: @24k_exotics
Boasy is such a beautifully grown strain with eye popping colors and features. Boasy possesses a frosted berry colored base, with a fine marbling throughout of deep violets, mint green, and a vanilla cream color. Most noticeable are the plentiful bunches of jack-o-lantern orange pistils, adding a fiery touch to its softer surroundings. Trichome heavy, mildly sticky to the touch, and louddddd AF this bud truly is a sight and smell to behold.
Boasy definitely provides one of the most unique smokes of 2020. Each hit provides a smooth, 'buttery' toasted sugar flavor reminiscent of a malty caramel. The exhale retains a pastry-esque flavor with an earthy fuel introduced at the very back end.
Boasy rocks a strong and fast acting indica leaning effect. Upon the first inhale, a facial flush and tingle occurs and a small sweat begins to break – a sign of true ⛽️. Boasy locks you up into a strong cerebral head grip (a daze moreso than a haze) and doesn't let go for a few hours. But the effect on the body are equally enticing. The day's stress and mileage seemingly melts away. A tranquilizing and incrediblypleasurable high.
MAJOR Shoutout to @24k_exotics for providing this incredible heat, and knocking a strain of the bucket list. Blem flower has been some of the most sought after in recent months. If you all haven't caught onto their wave yet, do so now. Big things are coming for this brand — this is only a taste.
#Budfinder
•
•
•
•
#dcbud #dc420 #420 #dcweed #mdweed #stoner #marijuana #dccannabisculture #budtender #strainfinder #thc #cannabisdaily #dccannabis #puffpuffpass #dmv420 #topshelf #stoner #whiteashonly #cleanmeds #i71 #calilotus #blem #blemvibe #boasy
Advertisements