Strain Review: Maqui (Mochi x Ice Cream Cake)
MAQUI
Lineage/Genetics: Mochi x Ice Cream Cake
Original Breeder: Maqui
Maqui Strain Review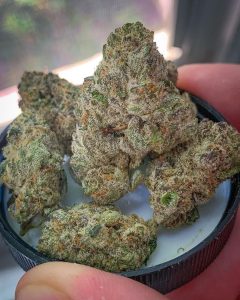 By: @maqui415
Call it 'bag appeal' if you will, MAQUI was a strain I knew I had to try given its quick rise to 'fame' in DC and impressive genetics. A big shoutout to @son_of_washington to having this one on the menu.
Maqui is a quite the strain to behold with an impressive glaze of trichomes giving the strain a powdered donut vibe from the get go. Shades of deep violet and forest green really pop off the nug, while subtler hues of spring green and cream complete the picture. This was a hard strain to capture the full essence of, so swipe through ➡️➡️➡️ for a number of angles.
Take my word, Maqui is an incredibly flavorful smoke. Sweet, piney and slightly nutty on the inhale, with a creamy floral finish that really lingers. I really taste the Ice Cream Cake genetics in this one more so than the fruitier Mochi.
Maqui's effects first become noticeable when a initial head fog sets in within a minute or two of smoking. This is a hazy, very stoney high which puts your head in the clouds. This is not your strain for working/productivity. Maqui's body effects have a slower onset but a strong and lasting grip, as waves of relaxation and physical alleviation envelop the body. A suitable end of day smoke.
#Budfinder
•
•
•
•
#dcbud #dc420 #420 #dcweed #mdweed #stoner #marijuana #dccannabisculture #budtender #strainfinder #thc #cannabisdaily #dccannabis #dcdabbers #puffpuffpass #dcnightlife #dmv420 #topshelf #devilslettuce #stoner #whiteashonly #cleanmeds #i71 #macqui #maqui415
Advertisements