Strain Review: Balla Berries by GasHouse
BALLA BERRIES
@therealskyballabmf
@gashouse_thebrand
Lineage/Genetics: Unknown
Original Breeder: Sky Balla
Grower: GasHouse
Balla Berries Strain Review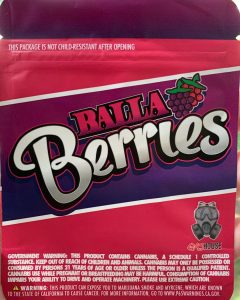 Linked up with the homie @son_of_washington last week, and he came through with some serious ⛽️. An OG reviewer in the DMV, you know Son only carries quality smoke evidenced by this strain right here.
BALLA BERRIES brings that bag appeal with a loud fruity nose and larger, dense multicolor buds. Marbled from the inside out, Balla Berries brings out a whole spectrum of colors from grape to emerald to salmon pink. I was gifted a 2.7g nug, and boy is she pretty.
Ranking high among my personal favorites of the year, Balla Berries brings incredible flavor to the table. As anticipated, each draw brought a thick smoke with a distinct sweet berry fuel flavor throughout. Heavier on the gas than the fruit, which is a plus in my book.
In my opinion, the high is very head dominant, settling behind the eyes and forehead within a few minutes. Highly euphoric, Balla Berries is an ideal stress-killer, without the heavy body effects knocking you out for the count. An all day treat for sure.
#Budfinder
•
•
•
•
#dcbud #dc420 #420 #dcweed #mdweed #stoner #marijuana #dccannabisculture #budtender #strainfinder #thc #dcgrown #dcgrowers #cannabisdaily #dccannabis #dcdabbers #dcedibles #puffpuffpass #dcnightlife #dmv420 #topshelf #devilslettuce #stoner #whiteashonly #cleanmeds #i71 #gashouse #ballaberries #ballaberries
Advertisements