Strain Review: Secret Mints by Eugreen Farms
So I get the hype on Secret Mints from @eugreen_notill now that I've tried it. I've seen it basically every time I've gone into @oregrownindustries, but the stars just never aligned. This is one I really want more of, though. Some of the most intriguing, complex weed I've had for a bit.
Lineage/Genetics: Secret Cookies x Kush Mints
Original Breeder: Seed Junky Genetics
Grower: Eugreen Farms
Dispensary: Oregrown
Secret Mints Strain Review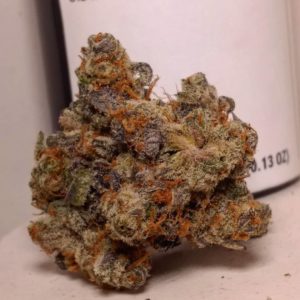 There's this aroma that comes with Kush Mints that I have trouble putting my finger on. That's kinda the dominant smell for me with this one. Minty gas, with sort of a fermented kush note underneath. There's some pine and general woodiness in there that I started noticing after a few days, but that complex, savory note really dominates throughout.
Gas and mint came through in the smoke, but it also seemed to concentrate the hash and wood notes I got. Really just a fantastic batch, I get why all the flavor chasers in my feed have been smoking his for a long time. I probably should've been, too.
This one is firmly in the "relaxing" category for me. It can help you get to sleep, but stubborn insomniacs like myself will probably want something a bit heavier. Killed my anxiety, settled my stomach, and put me into the couch in the best way possible. Generally a solid medical strain for someone like me, though I think the Donny Burger would probably be better for sleep purposes.
I don't review much from these guys, though I really should. They're super well respected in the industry, and this Secret Mints is a really good example of why. You can tell when care has gone into every aspect of a product. Buy their stuff at @oregrownindustries, plus I think my friends at @thc.pdx just got a new batch in. I know you'll like it as much as I did.
#thehighestcritic #strainreview #strainreviews #weedreviews #420review #portlandcannabis #OMMP #portlandweedreviews #MMJ #oregoncannabiscommunity #portlandcannabiscommunity #oregonweedreviews #Medicate #oregoncannabis #PNWStoners #PDXcannabiscommunity #pdxcannabis #pdxstoners #cannabiscommunity #cannabisreviews