Strain Review: Skywalker OG by Maven Genetics
Aloha @maven_mvn !! New Review of their #skywalkerOG previous experience with them great thus far so let's see if this holds up.
Brand: Maven
Strain: Skywalker OG
Lineage/Genetics: Skywalker x OG Kush
Original Breeder: Unknown
Grower: Maven Genetics
Maven Genetics Skywalker OG Strain Review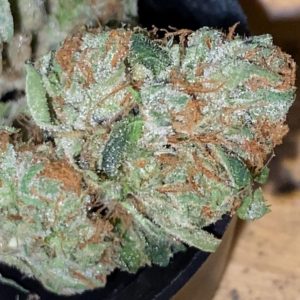 27.609 %THC
Comments:
Grabbed this few runs back and finally getting to the review. Let's see how the force is with this one.
Review:
1. Scent: Gas & it's got that cleaning solution pine scent that you find in air fresheners. I'm also getting a tiny bit of a mint tone deep in the jar.
2. Appearance: B grade/C grade nug jar. Fired red hairs, milky trichomes but a little stem showing. Varying from light to olive green across all buds.
3. Nug Structure: Bulbous nug separation on the breakdown, I can see my using the grinder for future sessions.
4. Smoke: Tingling off the throat/nose on exhale using the bubbler. Pretty light and not harsh for me.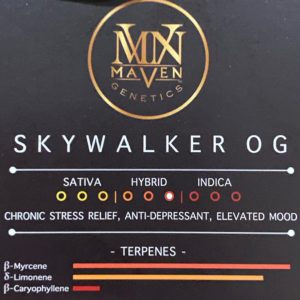 5. Taste: Getting a tinge of that cleaner type of residue and unfortunately it is off putting for the lady. No minty notes at all now but pine on the back of the taste buds.
6. Reaction: Hazy eyes, heavy on the Indica side as I slowly melted into the sofa for a mini nap during TV. Lol. Heavy sedation and a nice night time toke.
7. Conclusion: The misses said "Nah, it's got that taste (nutes)" it's good to understand since the jar came with a terp card. Haven't narrowed it down yet but this was heavy in Limonene and more so on Myrcene.
🤔 I'll recommend it for those who need sleep/relaxation assistance as I def couldn't keep my eyes open. She didn't mind it little later in the week, but not her first option.
#cannabiscommunity #cannabis #cannabisreviews #trees #weed #weedreviews #pot #potreviews #thc #sacramento #916 #420 #yee #legal #strainreview #california #valley #thehighestcritic #westcoastsmokeshow #loud #maven #skywalkerOG #vho #trunorcal420
Advertisements