Strain Review: Gas Pedal by The Grow Room
'Gas Pedal' / ⛽️🚘
Lineage/Genetics: (SFV OG x Sour Diesel)
Original Breeder: Dying Breed Seeds
Grower: The Grow Room
Terpene Profile: Unknown
Gas Pedal Cannabis Cultivar (Strain) Review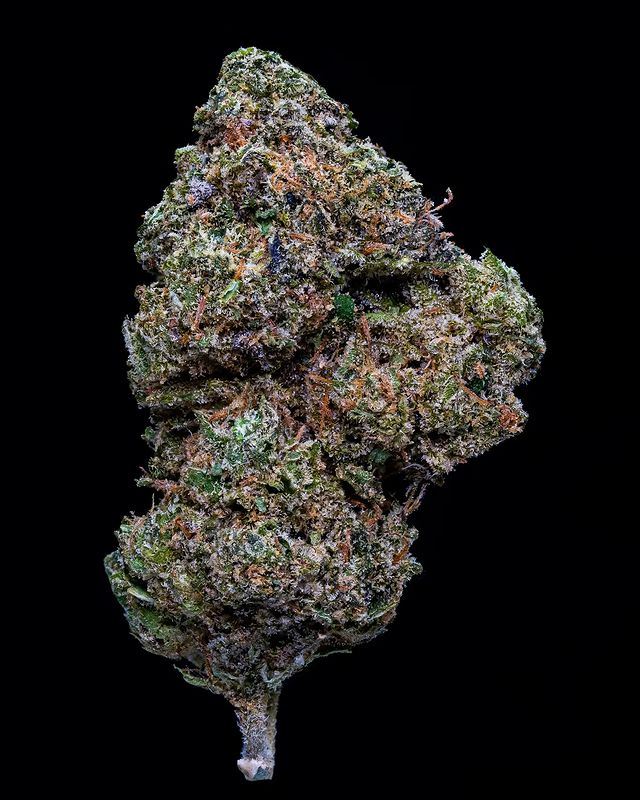 Good afternoon and a very happy Friday-Highday to all you beautiful people out there! I hope everyones week has gone well and that you're all staying blessed and baked 🙏🏻 Today we have a strain that was sent over to me by the man @hoodpackz_official a while ago so my apologies for the wait! Originally bred by @official_dyingbreed_seeds and grown by @the_growroom_official – this Indica-dominant hybrid flower boasted some of the most gassy terps I'd come across in some time and a pretty strong high to boot!
Straight out of the bag I was getting a very loud, gassy aroma, but less of a traditional OG-dominant gas; it almost had a touch of a bleach/toilet cleaner quality to it. I feel as though the Sour Diesel terps that were present in the aroma were giving the OG terps this accent – layered nicely with some Earthy, musty underlying notes. After grinding some of the buds up the more sour-based qualities of the profile came into play much more clearly; stepping the loudness of the aroma up a few notches.
On the dry pull I started to pick up on more of a sweet citrus quality to the overall dank, gas terps – giving them a nice, sharp edge. After sparking up my joint I found that the flavour was almost a straight up Sour Diesel experience but with some noticeable undertones of those piney OG gas qualities. As pointed out in @budpundits review video on this strain – the traditional OG terps are somewhat overshadowed by the more obvious Sour Diesel ones.
This being said, as the joint burned on I found that some notes of evergreen, sweet pine and Earthy must became clear on the exhale; bringing back around the SFV OG characteristics into the mix, balancing it all out nicely. As for the effects, these came on pretty fast and hard – definitely on the stronger side of the spectrum. If you're a lightweight smoker then I'd suggest you take it easy with this one! After a short while into the joint I got a rush of energy and euphoria – this led to a bit of cerebral buzz and a mild body high.
This left me feeling motivated and in a creative mood, by the time the joint was finished I felt fairly dazed but still focused, the strength of the effects was very noticeable but not to the point of it feeling sedating in any way. For the more experienced smoker – I found this to be a perfect strain for the daytime; a strong but clear heady buzz with a noticeably relaxing body high. As stated above, if you're newer to the herb then I'd suggest taking it slow with this one as it may knock you back a few notches!
Overall, I thoroughly enjoyed this flower, the flavour was very satisfying and the effects more so. It was a real treat to have some classic OG terps combined so nicely with those powerful Sour Diesel characteristics, making a loud and dank profile that I'm sure many of you will appreciate very much. Hats off to @the_growroom_official for smashing this one; I don't often smoke that many gassy strains so it was a pleasure to have one as good as this in to sample! 👏🏻🔥
🧬 @official_dyingbreed_seeds 🌱 @the_growroom_official 🔌 @hoodpackz_official #gaspedal #thegrowroom #dyingbreedseeds #budshots #uktopshelf #nugshots #macrophotography #cannabis #weed #cannabiscommunity #trichomes #420 #cannabisculture #weedstagram420 #cannabisphotography #weedpics #weedporn #premiumflower #nugshot #macroweed #nugmag #nugporn #weedworldmagazine #hightimesmagazine #skunkmagazine #leafly #weedmaps #macrocannabisphotography #thebudstudi0
Advertisements