Strain Review: True OG by Monterey Kush Co.
New Review!
. @montereykush.co
. @stickerfarmermadeit
. @westcoastsmokeshow
Brand: Monterey Kush Co.
Strain: True OG
Lineage/Genetics: OG Kush
Original Breeder: Elemental Seeds
Grower: Monterey Kush Co.
Monterey Kush Co. True OG Strain Review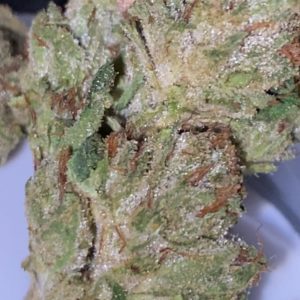 18.52%THC
Comments:
Pick up two for a promo. Jar one had smaller nugs than jar two, either way it's an OG family and I'm interested in this company's version. Likely to be a lil longer cuz of the dual jar situation.
Review
1. Scent: Good ole kush. Love it. Pine with a low peppery vibe and a small sprinkle of mint is felt. Jar two was much nicer than jar one on the scent.
2. Appearance: First 8th: Standard OG kush/True OG look of hairs and trichomes. Nugs were small and a few straight up were bottom bag nugs. Bummer. Jar two on the other hand was legit B sized nugs. Def made up for the first container.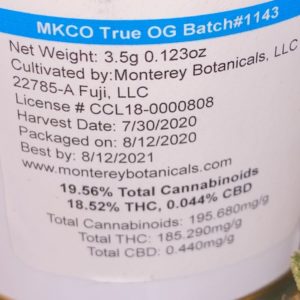 3. Nug Structure: Hard to describe C size nugs. Ended up using the grinder and a small hit of orange peel to bring it back. Buds were fine by hand but at that size, grind it. The 2nd jar had the pictures you see on this post. Nicely grown herb for sure as it peels right off the stem into nice little pebbles. Jar two for the win.
4. Smoke: Slight burn off the bubbler on the throat. Ever so slight warm to irritation on inhale exhale. Jar two didn't have any orange peel, was nice on the throat and I think it's due to the size up of the bud vs the smalls from jar one.
5. Taste: Nice kush over tones on exhale. Earthy spicewood/pine and of course some little minty pops as well.
6. Reaction: Eyes went bloodshot immediately lulzzzz. The high was lacking a little tho but the ticket was right for sure. I am feeling dulled and less alert. Jar two, plus a shit ton of coffee got me thru a Saturday of busy cleaning. The day def was conquered. Nice revisits every 45 mins or so for a fresh bowl to keep it going so it's not a long lasting stone stone, but just right for activities.
7. Conclusion: A good every day smoke for the ticket, but not much else. They had a deal at @nug and I def wish there was another strain or cut from them but I ended up getting two jars of this. Meat and bones of the review came from jar 1, which had a small orange slice for rehydration. I'll see if jar two is different but I doubt it. Jar two, winner.
Def doubted myself and Monterey! It was just hitting better than jar one. Truly strange as but I think it's honestly the size of the bud when it hit the bowl. The smalls were okay but the B sized nugs were much easier to feel full impact. I'll def be on the look out for this brand in every future pick up. Won me over for sure.
#cannabiscommunity #cannabis #cannabisreviews #trees #weed #weedreviews #pot #potreviews #thc #sacramento #916 #420 #yee #legal #strainreview #california #valley #thehighestcritic #westcoastsmokeshow #loud #stickerfarmermadeit #trueOG #buylocalweed #supportlocalfarmers
Advertisements