Strain Review: Sour Power OG by Kush Company
@kushco3 thanks to @cholostoner77 cheers to @cali_bud_reviews @nathanavila sour power OG by kushco!
Lineage/Genetics: Biker Kush x Sour Power
Original Breeder: Karma Genetics x Hortilab
Grower: Kush Company
Terpene Profile: Unknown
Sour Power OG Cannabis Cultivar (Strain) Review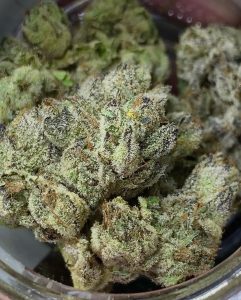 Introduced to me by @cholostoner77
where should I start with this one, I've already tried the Stoney point and half oz of #kushcoog🔥🔥🔥🔥🔥 when I first seen the picture of the flower I'm not sure if I'll totally fall for it because purple stuff and sweet type of terps isn't always my favorite, but man this baby is such an beauty queen! Trichomes coverage on this one is insane and perfectly intact!!!
Pop the bottle and peel off the pressure seal and immediately reveal the classic OG aroma! I used to smoke a lot of sour diesel and this strain definitely remind me of that, another sniff I'm happy to report that this flower offers 🌲 on top of 🌲 with lots of diesel, gassy AF! slightly more fruity and sweetness compared to kushco og, after grinding the earthiness and diesel become really loud, this jar comes with 3 large and one medium size nugs.
The nugs appearance structure is totally natural and top notch, perfectly cured and hand trimmed. Super sticky to my fingers.
First rip with water bong immediately put a big smile on my face, of coz that's after some coughing, the immediate buzz starts from my chest then go up to my neck and finally behind my eyes, the stone is very relaxing and euphoric, melts my body and slowly take my back pain away.
OMG this thing is a power house! The look is awesome, terps are right on point, smooth smoke and slow burn finished with perfectly white ashes. OG Kush lovers has to try this strain! This is definitely one of my favorite OG ATM! 💯 🔥 🔥 🔥
#eurphoric #creativity #painrelief #420 #cannabislife #californiabag #socalcannbis #sgvweed #sgvcannabis
Advertisements