Strain Review: Tiramisu by The Rare LA
TIRAMISU
(Wedding Cake x Undisclosed)
By: @therarela @tiramisu.strain
Via: @dynastycollective.inc_ @dynasty.express
Lineage/Genetics: Wedding Cake x Gelato 45
Original Breeder: The Cali Connection
Grower: The RARE LA
The RARE LA Tiramisu Strain Review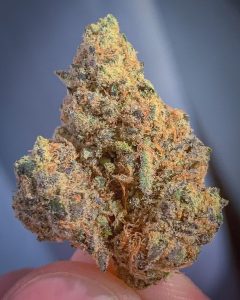 Tiramisu redefines the Wedding Cake experience and showed me what WC can achieve as the principal strain of a cross. The Tiramisu buds I was gifted were smaller in size, medium to tight density, and perfectly manicured across the board. The colors that make up Tiramisu stands ina stunning, stark contrast to one another; muted mint and emerald greens make up the base of the strain, with candied lilac flashes arising throughout, even dominating some buds. Creamy, gleaming trichomes visibly drape over each calyx and is sticky to the touch.
Tiramisu's nose is best described as a musky-sweet and hashy, earthy and chock full of spice. I actually find the nose to mask what I consider to be a truly unique flavor with multiple note distinctive notes to catch on to. Lighting Tiramisu up, the flavor is predominately defined by a smooth, nutty, slightly bitter, chocolatey dough (more so than a wedding cake creaminess). Sugary, but not super sweet, Tiramisu actually turns slightly sour before ending on a strong note of gassy diesel. Flavor wise alone, you know this isn't your average Wedding Cake.
Tiramisu absolutely pulls no punches, all it takes is a hit or two to begin to feel the onset of a strong, wave-like high. Tiramisu is heavily cerebral, and super stoney for an extended period of time. Don't confuse stoney with hazey, I found Tiramisu to keep my thoughts relatively clear despite a trance like effect, euphoric, and surprisingly uplifting early on. Supposedly measuring around 24% THC, the effects would have had me guess this one tested a bit higher, but that speaks to the terps in effect here. The body effects of Tiramisu take a few hours to reach their peak. Mild sedation, and more physically loosening than relaxing, Tiramisu was the ideal choice for a strong strain that wouldn't knock me out for the count. A must try delicacy.
#Budfinder
•
•
•
•
#dcbud #dc420 #420 #dcweed #mdweed #stoner #marijuana #dccannabisculture #strainfinder #thc #dccannabis #puffpuffpass #dopesmoke #dmv420 #topshelf #whiteashonly #cleanmeds #i71 #therarela #tiramisu
Advertisements