Cultivar Review: Italian Ice from Terpz n Hunnitz
Italian Ice – @terpz_hunnitz617
Nose: Doughy, cakey, buttery, creamy, vanilla, gassy, citrus
Inhale: Sweet, fruity, doughy, rubbery, gassy, cakey, piney
Exhale: Citrus, tangy, sweet, doughy, cakey, gassy
Lineage/Genetics 🧬: Forbidden Fruit x Gelato 45
Bred by: Cali Connection (original)
Cultivated by: Undisclosed
Terpene Profile: Unknown
Italian Ice Cannabis Cultivar (Strain) Review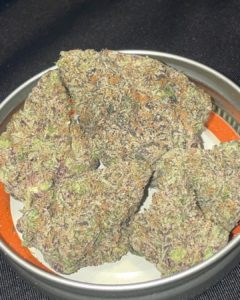 Hey what's up everyone? After a quick road trip we are back to our regularly scheduled programming. Hope everyone is having a great start to the week and getting on their grind early. Today, I have the third installment for Terpz n Hunnitz including the Italian Ice he included in his sample package about a month back now. This cultivar has been a personal favorite of mine over the past couple years that I have not seen enough of. Featuring a cross between Gelato 45 and Forbidden Fruit, this cultivar typically boasts gassy and sweet & sour fruity layers to enhance the users experience. After solid try on the first two offerings from Terpz n Hunnitz I was eager to give this one a go. Of course, if you are looking for background info on him I would encourage you to revisit the first review I hosted on his content. Let's waste no more time and get into the facts!
The Italian Ice was presented within a circular shaped die-cut Mylar bag. Although I enjoyed the colorway and the face on front provided a quick laugh, I think you already know where my heart stands with these. Mostly due to the awkwardness while opening, I'm not the biggest fan when it comes to these die-cut bags. I thought the artwork on this particular one was straightforward as nothing seemed to hit home except for the fact of the cultivar I was receiving. However, I won't ignore the fact that the display on front was pretty appetizing and did provoke my sweet tooth.
When I gained a grasp on the packaging and was able to open it, a sudden vanilla pastry-like aroma lodged beneath my nose giving me a first impression how desirable this batch had implications of being. Without wasting much time a cakey layer of fuel exhausted from out of the pores on the structures with subtle notes of citrus to go along. I also caught some gassy fruit notes in the mix as well. Each nug held a decent amount of weight as this 8g quarter was made up about four, if not five, total. The aesthetics were mildly breathtaking showing off an even mixture of bright green to vibrant purple colored hues throughout. This all underneath a bed of trichromes. Given the somewhat pressed in surfaced, the pistils were intact but a little difficult to make out the way they were tucked into each one. Breaking them apart was a challenge and even managed to make my fingertips a bit sore when doing so. Once cracked, I honed in on a strong hint of spicy vanilla terps that consisted of a fuel Z aroma. This bud stunk but in a gassy dessert way leaving the neighbors enticed on some of the more humid days recently. I 100% recommend breaking down this batch of Italian Ice in the grinder as it will pose too much work doing so by hand. The yield that followed was more than I anticipated given the texture causing those pastry noted to flare up even more so in the process. When I went to take a dry pull of the joint I was consumed with sweet and doughy candy terps that covered my taste buds followed with an soil-like fuel taste on the back end.
When I sparked the Italian Ice in an Organic RAW, the immediate, semi-pressuresome pulls concocted a magnificent taste of rubbery fruit terps and diesel notes. I could instantly taste the doughy, pastry appeal that presented to me upon laying my nose on it. This brought back fond memories of the last time I had my hands on this cultivar as the initial inhales brought about an even amount of terps and power. On the way out, a sweet, tangy follow through left the tongue knotted. Eventually, the exhale mimicked the same dessert taste emulated on the inhale. It only took about a 1/4 of the way for the thick covering of gas to sharpen. Around this point, I discovered doughy Z terps begin to coat my mouth complimenting a rich creamy overtone. Additionally, hints of strawberries and raspberries were noted among the various fruit flavors this one threw off. The burn this cultivar produced was simply impeccable which, in turn, resulted in a flawless white ash. I was expecting the drip to be a little more oily than it was but it still managed to sweat out the joint enough. Inching past the halfway mark in the sesh, I still held onto those rubber fruit notes while still catching onto glimpses of z terps. A little further down, the exhales became a bit harsher as I did lose a slight bit of flavor nearing the finish. Nonetheless, the joint still ripped down to the wire giving off sweet layers of fruit and cannoli. The Italian Ice had an easy advantage compare to the previous two flavors both on flavor and overall potency.
The onset of medicinal effects started to work their way in within the first 10-15 minutes within the sesh. While I was initially hit with a steady body buzz that gripped my upper torso and core, I also felt my brain begin to storm as well. Although I experienced a mild amount of raciness this did help provoke my creative tendencies and ability to problem solve. This made it very easy to hold a social appearance in public while still enjoy the cerebral effects this cultivar put out.
Even as the slow, but sudden, eurphoria melted the rest of my body I still felt rather energetic with no hesitation to partake in activities. I did enjoy this preferably at night time, however, the effects were not intolerable during the day unless I had somewhere to go. The more I stood still while under the influence of this cultivar I realized I was becoming bogged by my own weight than anything. Still, this did the trick for those times I was looking for a night cap before bed. Despite boasting favorable characteristics, the duration was the highlighting feature. In total, the effects last a little over an hour an half with the peak of effects wearing off in a measly 45 minutes. Personally, I thought everything was there regarding the overall effects but was expecting it to last just a little longer.
After having a chance to try the Italian Ice that Terpz n Hunnitz assisted me with, I have to say this one took the cake. Even though I did have minor gripes about the aesthetics and total duration of effects, everything else was seemingly in place. This cultivar matched its lineage putting out the distinct fruity flavors contained in Forbidden Fruit while finessing the power Gelato 45 unleashes. Ultimately, this makes this batch of Italian Ice worth while for any smoker desiring that equal amount of fruit and gas while giving off a slight bit of candy flavor. Additionally, this will suit anyone who seeking out more balanced effects. As mentioned, this could go either way for those who are stuck between a night in or night out. If you are more along the lines of an experienced smoker, this will more than likely be a night out. With that being said, patients who are in need of a mental or spiritual boost will find the proper remedy coming scores this cultivar. I believe the sourcing of this was a job well done by Terpz n Hunnitz and I will have one more review to follow from him.