Vape Review: Up Live Rosin Disposable by PodTones
You may have heard of PodTones – a live rosin vaporizer that has cracked the code on how to get live rosin into pods without added chemicals. I was able to check it out and see if it was worth the hype.
Cultivar: Crop Duster
Lineage/Genetics: Daily Driver x Chem D
Original Breeder: Cannarado Genetics x Phinest Cannabis
Grower: Unknown
Processor: PodTones
Terpene Profile: Unknown
COA: https://app.lucidgreen.io/products/4urTSCSXNGK7vtaWhm8X9h/tests/?
PodTones Up Live Rosin Vaporizer Review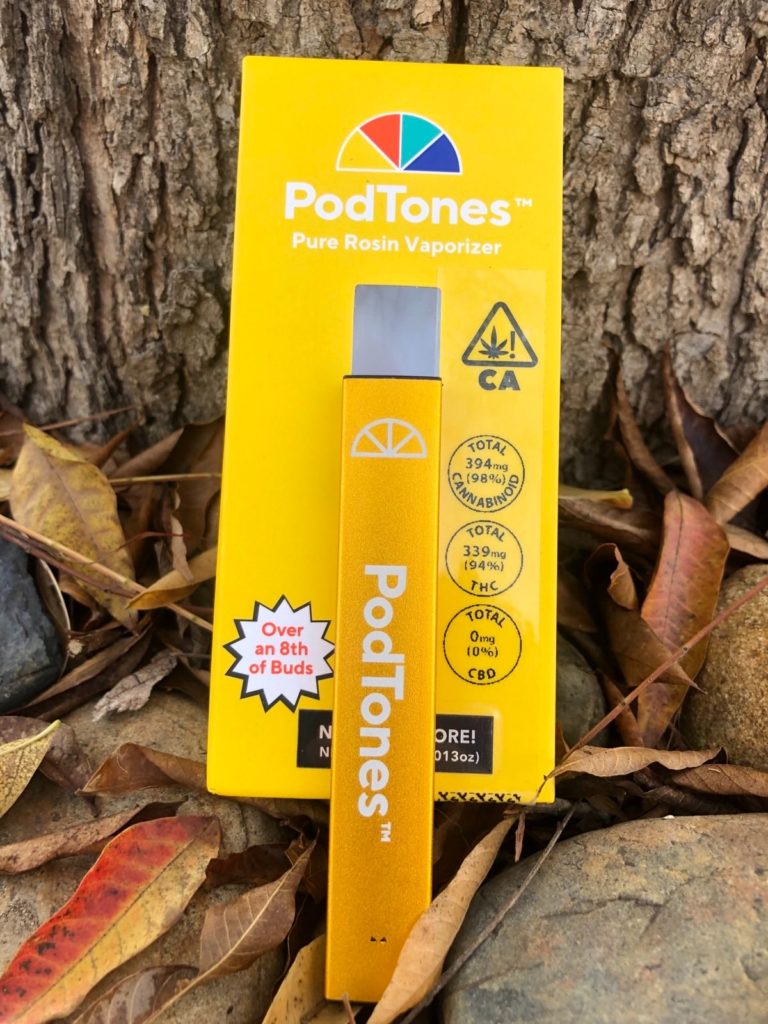 Those that know me, know that I've vaped a lot of disty in my life. Reactions to that vary – but it is what it is. As an economist, I thoroughly believe that quality rises to the top in a free market and let's be loud and clear for those in the back: Rosin is the purest and highest quality expression of the cannabis plant's resin (trichomes).
Needless to say, when Ali from PodTones reached out to me, I was ecstatic. The stars aligned and I was able to get a sample of their Up live rosin PodTones.
From the first hit – there's a difference in taste on the inhale that continues through to the exhale. The high is instantly different, too. So much closer to a dab and that full spectrum flower high. Sometimes, I think of all the people that have never hit rosin – shed a quick tear – and vow to share #TeamSHO far and wide.
Rosin cartridges and vapes make it so that this higher quality of cannabis extract can be consumed on the go. Cuz let's be real – who isn't on the go nowadays?
Hitting the PodTones taste unmistakably of rosin. Not resin, or distillate, but rosin. There's a light pineapple cake taste and a tart gassy nose on the vapor that is familiar and brings a smile to my face just as the pressure builds behind my eyes. Relaxing, sat me down on the couch and in front of a computer with all the mental and finger acuity needed to start looking for rabbit holes.
Back to the vape. None of their competitors have it quite like this – and I'll emphasize that it was better than other rosin pods I've tried thus far and even more consistent than other pods/carts for disty or bho. As far as I've seen, the major vape companies are still playing catch up on the hardware side to handle live rosin. That combined with the liquefaction process and you have a noticeable step up.
Live rosin in carts, pods and vapes is a great thing when compared to the one dimensional highs of the distillate flooded market. I do feel that the free market will eventually cause companies like PodTones to move away from single use devices because of the environmental – and ultimately economic – impact. Disposables aren't a good use for the world's lithium. Hard stop.
Another wishlist item would be for cultivar specific PodTones to really hone in on the extra uppity cultivars that are out there. After all, that's what rosin's all about.
Very interested to try the other PodTones tones – Dream, Chill, and Fun – to see what the differences in effect and taste are. In looking at the other tones' COAs, there are noticeable terpene profile differences but all are Beta Caryophyllene Dominant.
Looking forward to seeing how PodTones continues to evolve in this market and if they eventually move away from disposables – especially since they're an established first mover.
Editor's Note: the cultivar used changes by batch. DO NOT buy this repeatedly expecting the same experience.
Advertisements